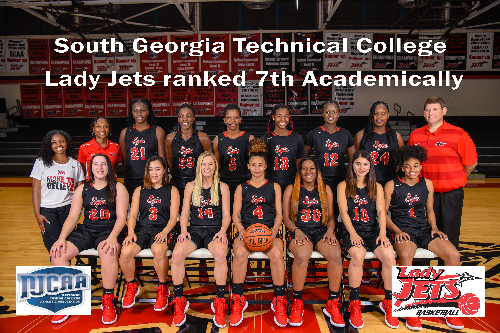 Smart and Talented! Those two words describe the South Georgia Technical College 2018 – 2019 Lady Jets Division I intercollegiate basketball team. The National Junior College Athletic Association (NJCAA) 2018 -2019 Academic Teams of the Year were just released and the South Georgia Technical College Lady Jets were ranked 7th in the nation in Division I women's basketball for their academic performance with an overall grade point average of 3.61 on a 4.0 scale.
"What an incredible testament to our young people and their work ethic not just on the court but more importantly in the classroom," said South Georgia Technical College Athletic Director and Lady Jets head coach James Frey. "We talk about the importance of their degree daily. We talk about their lives five, 10, 15 years down the road and how important it is to do well academically now so they can reap the rewards professionally then."
All 27 of the NJCAA certified sports were recognized with a team champion. Western Technical College in La Crosse, WI was the 2018 – 2019 NJCAA Women's Basketball Academic Team of the Year with a 3.72 overall GPA. Three teams, Northwest Mississippi Community College, Miles Community College, and Snow College tied for second place in women's basketball with 3.69 overall GPA's. Dakota College at Bottineau was fifth with a 3.68 GPA and Frank Phillips College was ranked sixth ahead of South Georgia Technical College with a 3.64.
Six individuals from the Lady Jets 2018 – 2019 team were also listed to the NJCAA All-Academic Second and Third teams. The NJCAA All-Academic first team members had to a 4.0 GPA. The NJCAA All-Academic second team members had a 3.80 – 3.99 GPA and the third team was a 3.60 to 3.79 GPA.
Sophomore graduates Mari Hill and Rio Yamazaki were both named to the NJCAA All-Academic second team and sophomores Alyssa Nieves, Fatou Pouye and Bigue Sarr were named to the NJCAA All-Academic third team. Freshman Amara Edeh was the other Lady Jet to earn NJCAA All-Academic third team honors.
An impressive 6,656 student-athletes from around the nation contributed to a new NJCAA record for earning a spot on one of the three NJCAA All-Academic teams.
"Year in and year out, NJCAA student-athletes continue to set a new standard both on the field and in the classroom," stated NJCAA President & CEO Dr. Christopher Parker. "The 2018-2019 year was no different as student athletes raised the bar once again to reiterate the importance of academics throughout the NJCAA. As an association, we take tremendous pride in knowing that our student-athletes put their best foot forward each day to become well-rounded members of their team, their campus, and their communities."
So not only are the South Georgia Technical College Lady Jets smart, they are also very talented. The 2018 – 2019 Lady Jets earned their 3rd consecutive trip to the NJCAA National Tournament this past Spring. They also posted the best overall record for the program at 30 – 4. It was also the team's sixth trip to the national tournament and the fifth for head coach James Frey in his seven years at the helm of the Lady Jets program.
"It is great to win 30 games and we proud of all that but Assistant Coach Kezia Conyers and I get so much out of watching these young ladies buy into our academic message more than they do our athletic message," added Frey. "They are all good players and athletes when they arrive or they wouldn't be here. Many of them are pretty good students but to have over a 3.6 GPA you have to be better than pretty good. You have to really apply yourself and work at it.
"This past Spring made the third consecutive semester we had over a 3.25 team GPA. Honestly, I am incredibly proud of our young ladies for understanding how important it is to be STUDENT athletes. The first thing four year universities ask me when they call is how are they academically. It always feels good to say they will have over a 3.0 and graduate on time in the spring," added Frey.
A total of 738 programs in the National Junior College Athletic Association earned a cumulative GPA of 3.0 or higher. The 2018 – 2019 year marks the third consecutive year that at least 730 teams achieved a 3.0 GPA or higher.
This is a press release from South Georgia Technical College.