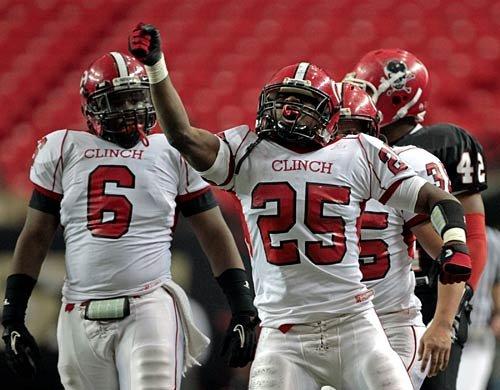 It has been 11 days since football teams that compete in the Georgia High School Association punched their tickets to the state finals.
But after a longer than usual lay-off between the semifinals and championship games, it's time to play football again and decide the state champions for the 2018 season.
On Tuesday and Wednesday, the GHSA finals will be played at Mercedes-Benz Stadium in downtown Atlanta with four games set to take place each day.
The title contests were delayed due to the Atlanta United holding the Major League Soccer finals this past Saturday that the team won at Mercedes Benz which is its normal home field.
With kickoff now upon us, it's time to take a look at each of the eight championship matchups that will take place at the spacious indoor stadium over the next two days.
Tuesday's Games
Class A Public – 10 a.m.
Irwin County vs. Clinch County
The Region 2 rivals will clash again in the first title game to be held this year.
This won't be the first time these two have tangled with the state championship on the line. This will actually be the third time in four seasons that the Indians and Panthers have played for the state crown.
Irwin is hoping for a different outcome this time after Clinch won the last two title-game meetings. And both times, the Indians won the regular-season game between the teams, only to see the Panthers win the championship game.
This year, top-ranked Irwin (13-0) also won the regular-season game against Clinch by a 21-3 score back on Sept. 14.
Irwin would claim its first state title since 1975 with a victory. Clinch (12-1), which is ranked No. 2 in the state poll, is going for its third title in four seasons and eighth overall.
Both teams live and die with the run. Irwin averages 293.2 yards rushing while Clinch averages 296.8 yards per game on the ground.
Trezmen Marshall, a Georgia commit, is one of Clinch's top rushers and also leads the team with 59 tackles on defense.
Class 3A – 1 p.m.
Cedar Grove vs. Peach County
Cedar Grove is looking to win its second state title in three seasons while Peach hopes to come out on top this year after falling last year in the title game on a controversial finish.
Cedar Grove is 13-1 for the season and entered the playoffs as the state's second-ranked team. Peach is 12-2 and went into the playoffs as the fourth-ranked team. Both teams won region championships this season.
Cedar Grove won the 2016 state title. Peach has won three state crowns with its last coming in 2009.
Points could be precious in this game as both teams have strong defenses.
The Saints have several major college prospects on their defense including linemen Rashad Chaney and Dante Walker.
Also defensive back Jadon Haselwood is a leader in the secondary though he is the state's top prospect as a wide receiver. He has 990 receiving yards for the season.
The Trojans have won 10 straight games after a 2-2 start. They have not allowed more than 14 points during their win string.
Linebacker Sergia Allen, who is committed to Clemson, is the team's leading tackler.
Class 5A – 4:30 p.m.
Bainbridge vs. Warner Robins
This one matches up two teams from the same region.
Warner Robins (12-2) won Region 1 this season and is ranked No 3 in the state. Bainbridge (9-5) finished second behind the Demons in the region and entered the playoffs unranked.
The Demons defeated the Bearcats 38-0 when they played on Oct. 19. It is worth noting, though, that Bainbridge was playing its first game since Hurricane Michael which cancelled several days of school and also practice.
The Bearcats have won six straight games since that loss including four playoff victories over teams ranked in the top 10 going into the postseason.
Sophomore running back Caleb McDowell has averaged 101 yards rushing in the playoffs while sophomore quarterback Quayde Hawkins has thrown for 171 yards per game in the postseason.
Both teams give up 17 points a game, but the Bearcats will be challenged to hold a Warner Robins offense that averages 36.9 points to that low of a total.
The Demons are led by senior quarterback Dylan Fromm, brother of Georgia quarterback Jake Fromm. The younger Fromm has thrown for 4,107 yards which ranks as the sixth-best single-season total in state history.
His favorite target is Marcayll Jones who has 1,866 receiving yards this season. That is a state single-season record.
Warner Robins, which knocked off title favorite Rome in the semifinals, can win its first state championship since 2004. Bainbridge played for and won its only state title in 1982.
Class 6A – 8 p.m.
Lee County vs. Northside (Warner Robins)
This also will be a matchup between teams from the same region.
Lee County won the championship in Region 1 this season while Northside finished third in the league.
Lee County (14-0) has been ranked No. 1 all season after winning the state championship a year ago.
Northside (9-5) came into the playoffs ranked fifth in the state poll.
Region 1 is sure to claim its third state title in a row. Valdosta won the championship in 2016 before Lee claimed the crown last December.
Lee County won the regular-season meeting between the teams by 24-7 on Oct. 13. The 17-point final margin is the closest for the Trojans in any game this season.
Lee sports the top defense in the state as it has given up a paltry 5.5 points per game.
The Trojans held Northside to just 133 yards when the teams met in mid-October.
The Eagles will try to get more going this time out as they showcase quarterback Jadin Daniels, the region player of the year. Daniels has passed for 1,565 yards this season while running for another 1,549 to lead the Northside offense.
Lee's offense features quarterback Kyle Toole who has thrown for 2,939 yards and 33 touchdowns. Most impressive is that the junior has thrown only one interception in 14 games.
Northside will be trying to win its first state title since 2014 and its fourth all-time.
Lee looks to repeat and win its second title as its first came last season over region rival Coffee.
Wednesday's Games
Class A Private – 10 a.m.
Athens Academy vs. Eagle's Landing Christian
The second day of action at the Benz will kick off with a rematch of last season's private-school title contest.
Last year, Eagle's Landing Christian defeated Athens Academy 41-3 in the championship game.
ELCA (12-1) is actually the third seed this year, but the Chargers are the top-ranked team in the state poll.
Athens Academy (13-0) is the No. 1 seed and the No. 2 team in the rankings.
The Spartans are 26-1 over the last two seasons with their only loss being to ELCA in last December's title game. The Chargers are 42-0 since 2015 against Class A opponents.
ELCA can become just the third team in state history to win four consecutive state titles in a row, joining West Rome (1982-85) and Buford (2007-10).
Athens Academy has never won a state championship.
ELCA is led by quarterback Brayden Rush who has passed for 1,477 yards and 21 touchdowns. Running back Keaton Mitchell has carried for 2,336 yards.
Athens Academy quarterback Palmer Bush has thrown for 1,478 yards and 15 scores. The Spartans also have a 1,000-yard rusher in Len'Neth Whitehead who also is a standout linebacker for the team.
Class 2A – 1:30 p.m.
Heard County vs. Rockmart
These two teams met earlier this season with Rockmart winning 33-0 in the non-region contest back on Sept. 7.
In that game, Rockmart (14-0) scored four times in the second quarter against Heard (12-2) before the game was called at halftime following a long delay for severe weather.
Heard, the No. 3 team in the state rankings, did not have standout running back Aaron Beasley, who is committed to Tennessee, in that earlier meeting. Beasley leads the team with 1,817 yards rushing and 21 touchdowns.
The team's quarterback, Alijah Huzzie, has thrown for 1,490 yards and 18 touchdowns.
The Braves have reeled off 11 straight wins since losing back-to-back games to last year's state champion Hapeville Charter and Rockmart in the second and third games of the season.
Rockmart is rock-solid, though. The Yellow Jackets average 45.8 points per game while giving up just 8.3 per contest.
Their leading ballcarrier is Markus Smith who has rushed for 1,142 yards and 18 TDs. Quarterback Dylan Bailey has thrown for 1,463 yards and 22 TDs.
Rockmart has not won a state title since 1950. Heard is playing in its first state championship.
Class 4A – 4:30 p.m.
Blessed Trinity vs. Cartersville
This one features No. 1 vs. No. 2.
Blessed Trinity, the defending champion, is the top-ranked team in the state while Cartersville is the second-ranked team. Both teams are 14-0.
Cartersville won the 2015 and 2016 state crowns before Blessed Trinity took home the winner's trophy last December.
Blessed Trinity ended Cartersville's two-year reign as the state champion by defeating the Purple Hurricanes 21-17 in the second round last year.
That loss snapped a 41-game winning streak by Cartersville which is 55-1 over the last four seasons with Blessed Trinity having been the only team to top it on the scoreboard.
The Titans are led by running back/Iinebacker Steele Chambers who is committed to Ohio State. He has rushed for 1,589 yards and 25 TDs. He is also the team's second-leading tackler.
This year, the Cartersville offense is led by quarterback Tee Webb who took over for Trevor Lawrence, now the starting quarterback for Clemson as a freshman. Webb has passed for 2,726 and 35 touchdowns.
Running back Marcus Gray has carried for 1,456 yards and 18 TDs.
The Cartersville defense leads Class 4A as its allows just over seven points a game.
Class 7A – 8 p.m.
Colquitt County vs. Milton
Colquitt County figured to be here at the end of the season, but Milton is a surprise.
The Packers (14-0) are the state's top-ranked team and they are ranked as high as second in one of the national polls for high school football. Colquitt is playing in its fourth state final in the last five years.
Last year, the Packers lost on the final play in the title game as North Gwinnett kicked a field goal to claim the state crown in Georgia's largest classification.
Milton (12-2) is ranked No. 8 in the state after winning its region this season. It knocked off Lowndes in the semifinals to prevent an all-Region 1 final.
Colquitt survived in overtime in its semifinal as it blocked an extra point to topple Archer 22-21.
For what it's worth, Milton defeated Archer 21-19 in the season opener for both teams.
Both teams have capable quarterbacks. Colquitt's Jaycee Harden, has passed for 2,396 yards and 22 scores.
Milton's Jordan Yates has thrown for 2,420 and 23 scores. He also has rushed for 858 yards.
The two quarterbacks are also supported by strong running games.
Many believe Colquitt has perhaps its best defense under head coach Rush Propst. The Packers give up just 10.1 points a game.
Milton defensive back Joe Charleston is a player to watch. He is committed to Clemson.
The Eagles have won nine in a row.
Colquitt defeated Milton 42-35 in the 2014 quarterfinals on its way to a 15-0 season and that year's state championship.
Note: All eight games will be televised by Georgia Public Broadcasting and will be streamed on gpb.org. Also, the games will be streamed on NFHSNetwork.com/ghsa.