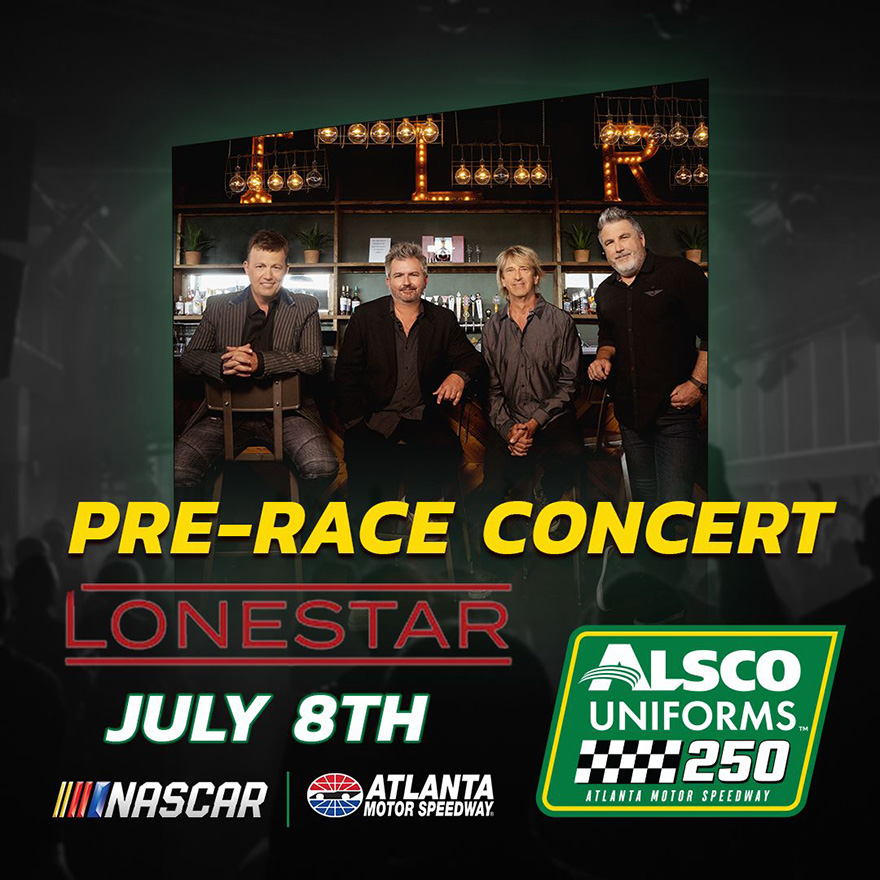 Multi-award winning country group Lonestar will perform a live concert in Atlanta Motor Speedway's Fan Zone for fans attending the Alsco Uniforms 250 on Saturday, July 8.
The highly acclaimed band – known for a number of Country music No. 1 hits such as "I'm Already There", "Mr. Mom", and "Smile" – will be on the AMS Fan Stage as part of the Revs & Riffs weekend, which brings together racing and concerts throughout Atlanta's summer NASCAR event.
All told, the 2023 running of Revs & Riffs will feature musical acts across three days, including the previously-announced concert by Andy Grammer prior to Sunday night's Quaker State 400 Available at Walmart. Additional acts in the AMS Fan Zone on Sunday and the Peach Pit on Friday night will be revealed soon.
Lonestar has won many of music's top honors, including Academy Of Country Music awards for New Vocal Group in 1996, Single and Song of the Year in 2000, along with Humanitarian of the Year in 2002. They also won Country Music Association's Vocal Group of the Year and International Artist Achievement award in 2001. All told, Lonestar have sold more than 10.5 million records since their formation.
The country group's performance on can be enjoyed as part of the free AMS Fan Zone experience prior to the Alsco Uniforms 250 night race on Saturday, July 8. To purchase tickets fans should visit AtlantaMotorSpeedway.com or call 877-9-AMS-TIX.
---
About the Quaker State 400 Available at Walmart:
The Quaker State 400 Available at Walmart headlines the summer slate of NASCAR racing at Atlanta Motor Speedway on Sunday, July 9. Featuring the first weekend of night racing at AMS since 2014, Atlanta's summer NASCAR weekend comes with increased stakes with the NASCAR playoffs looming large.
Accompanying the Quaker State 400 Available at Walmart is the Alsco Uniforms 250 NASCAR Xfinity Series race on Saturday, July 9. The summer race will challenge the rising stars of the sport to stand out and succeed on one of the circuit's most challenging tracks.
More information on the July 7-9, 2023, Quaker State 400 Available at Walmart weekend and ticket availability can be found online at AtlantaMotorSpeedway.com.
---
Follow Atlanta Motor Speedway:
Keep track of all of Atlanta Motor Speedway's events by following on Twitter, Instagram, and become a Facebook fan. Keep up with all the latest news and information with the Atlanta Motor Speedway mobile app.