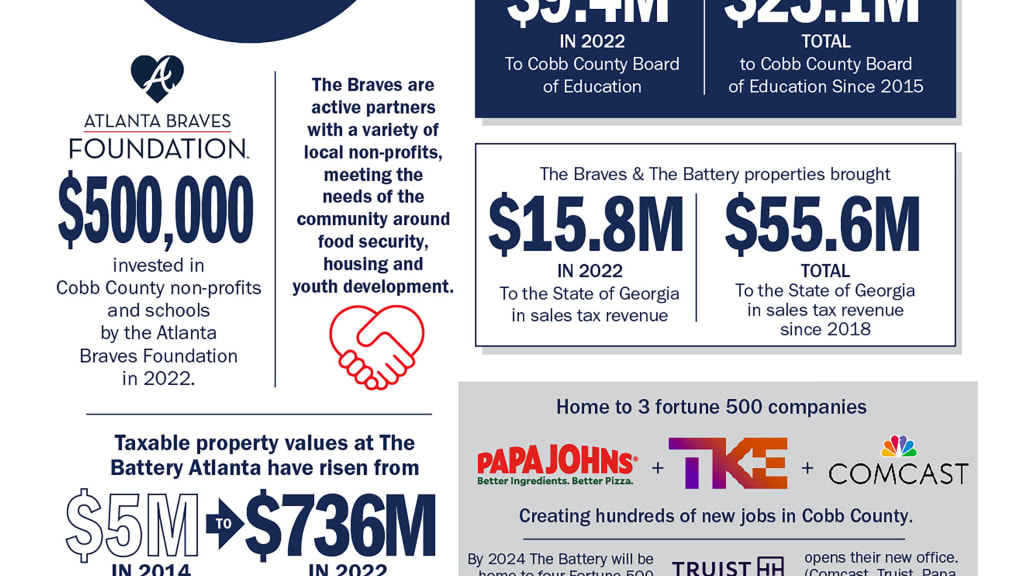 Today, May 9, 2023, Cobb County Chief Financial Officer Bill Volckmann presented to the Board of Commissioners the annual report on the finances of Truist Park and The Battery Atlanta. The report showed that the Braves have continued to generate financial impact for the region and state in addition to creating a vibrant community. The overall project is producing more revenue for Cobb County than ever before, including more dollars annually than the cost of the debt service on the issued bonds.
Simply put, Truist Park and The Battery Atlanta are considerably outpacing past projections and are a huge success.
The full report is available here. Key highlights include:
Truist Park and The Battery Atlanta generated more than $38 million in combined tax revenue during the 2022 fiscal year.
The $38 million includes $9.4 million allocated to the Cobb County Board of Education to provide students with the education they need and deserve.
$15.8 million went to the State of Georgia to improve infrastructure, fund law enforcement agencies, and more.
Truist Park is now net positive for Cobb County taxpayers.
Taxable property values at The Battery Atlanta have risen from $5 million in 2014 to $736 million in 2022 thanks to the Braves' development and investments in the area.
Cobb County Board of Education (Cobb County schools) have received more than $25 million in property taxes from Truist Park and The Battery Atlanta since 2015.
The project has generated over $55 million in sales tax revenue for the State of Georgia since 2018.
Welcoming over ten million visitors in 2022 alone, our campus is an economic engine for the community. The vision of Truist Park and The Battery Atlanta have proven to be an exceptional investment for Cobb County, the metro-region, and the State of Georgia. That is why cities all over the United States are attempting to replicate what we have built.
The Atlanta Braves are committed to continuing our mission of providing a world-class, friendly, and enjoyable experience for our visitors and our community while also striving for another World Championship for our fans.
Thank you to the Cobb County Board of Commissioners for reporting on these facts and Go Braves!
---
mlb.com Atlanta Braves