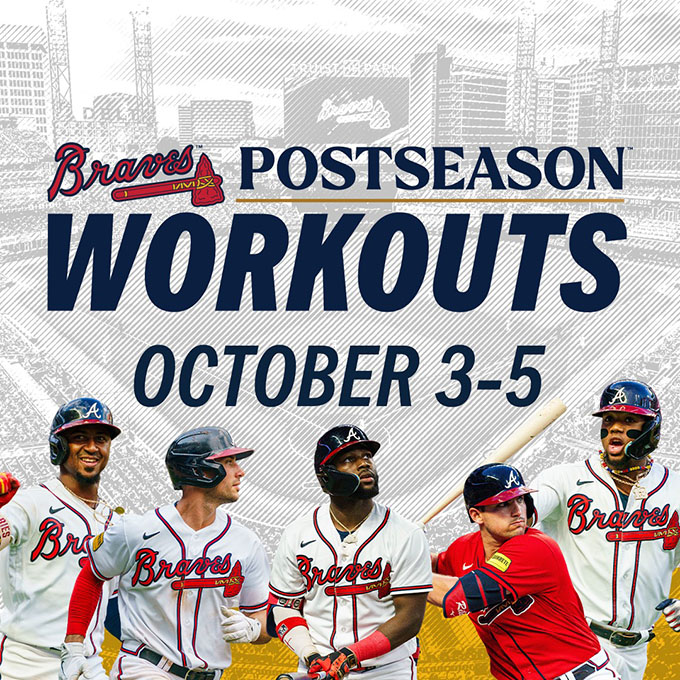 For the first time ever, The Atlanta Braves are offering their fans an exciting opportunity to attend the Braves' Postseason Workouts. On October 3rd, 4th, and 5th, fans are invited to come out to Truist Park for a three-day pep rally and experience simulated game action, featuring the Atlanta Braves and members of the Gwinnett Stripers. This free event is an exclusive opportunity for fans to support the team as they prepare for their 2023 Postseason campaign.

To register, Braves fans must visit Braves.com/Postseason. Fans will only be able to claim an invitation for one of the three Postseason Workout days and will be limited to one invitation per adult. Children under the age of 18 will not need an invitation in advance but must be in attendance with an adult that has secured an invitation in order to be allowed entry into Truist Park. Ballpark fare will be available at select concession stands, and postseason merchandise will be available for purchase in the Braves Clubhouse Store. The workouts are expected to begin at approximately 5:00 p.m. with no specified end time.
Gates open: 4:30 p.m.
Parking: Free in all Braves owned parking lots for up to three hours.
All Truist Park game day policies will be in effect.