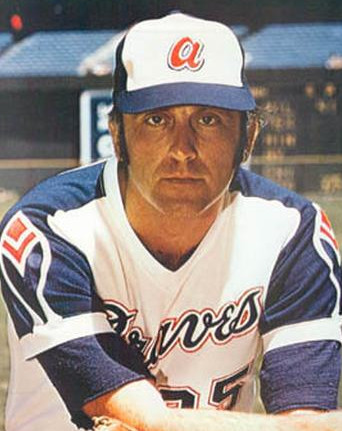 The Atlanta Braves will observe Phil Niekro Night as the team battles the New York Yankees at Truist Park on Tuesday, August 24.
The evening will celebrate the life and legacy of Hall of Famer Phil Niekro and highlight his passion to end child abuse through his 25 year-partnership with the Edmondson Telford Child Advocacy Center.
Proceeds from the Atlanta Braves Foundation's 50/50 Raffle and the in-game charity auction on August 24th will benefit the Edmondson Telford Child Advocacy Center. All donations on www.Braves.com/give that day will also benefit the organization to further their fight against child abuse and work to provide a safe environment for child victims.
There will be a pregame check presentation to the Edmondson Telford Child Advocacy Center on behalf of the Atlanta Braves Foundation. Additional pregame and in-game presentations will feature tributes and vignettes honoring Niekro as one of baseball's greatest knuckleball pitchers.
A special "Knucksie" ticket package available at www.braves.com/niekro will include a game ticket and one-of-a-kind shirt illustrating his famous knuckleball, and $4 from every Knucksie ticket package sold will benefit the Edmondson Telford Child Advocacy Center.
"Phil Niekro always held a special place in the Braves organization as a player, mentor, leader, and friend," said Atlanta Braves President & CEO Derek Schiller. "Phil Niekro Night will pay tribute to the man who gave so much of himself to Braves Country and whose memory we hold with us every day."
The Atlanta Braves have been honoring Niekro throughout the season with "35" on their baseball caps, next to Hank Aaron's 44. On August 24th, flowers will be laid in front of the Phil Niekro statue at Truist Park, and "35" will be painted on the back of the pitcher's mound. Additionally, that night, select concession stands will offer a specialty "Knucksie sandwich" with smoked pulled pork, caramelized onions, pickles, and coleslaw served over cornbread and drizzled with BBQ sauce.
Phil Niekro Night highlights, including a tribute from his former Braves teammate Dale Murphy, will be featured during the Yankees vs. Braves game on Bally Sports South and the Bally Sports app, with live coverage starting at 6:30pm ET.
---
Atlanta Braves/MLB