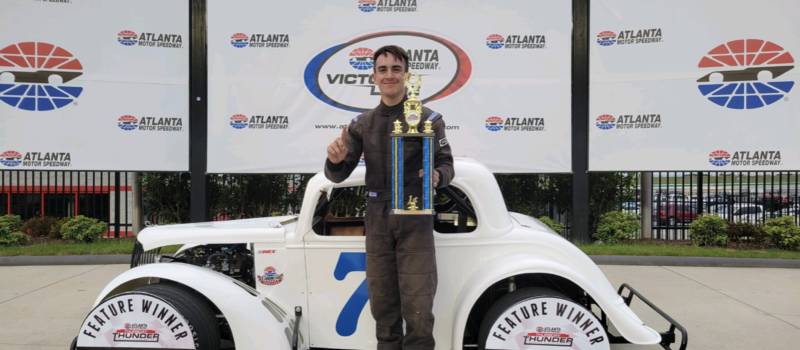 The 24th season of Thursday Thunder Legends and Bandolero racing returned to the quarter-mile Thunder Ring on Thursday night to kick off a thrilling series of bumper-to-bumper racing at Atlanta Motor Speedway.

This was most apparent in The Byron Powersports Semi-Pro feature. Michael Gannon of Canton led right out of the gate, but was trailed throughout the race by Nathan Jackson of McDonough. Initially, it appeared that it would be a dominating win for Gannon after he led for the greater half of the race, but Jackson continued to be patient waiting for a move. Finally, on lap 17 Jackson passed Gannon off of turn 1 and held off Gannon's aggressiveness for the final 3 laps to claim victory for the Byron Powersports Semi-Pro division.
Earlier in the evening, the Outlaw feature provided an intense game of back and forth, as the race unfolded. Mobile, AL's Clay Hocutt had the number one pole position but was immediately challenged by Garrett Erwin of Covington. Hocutt and Erwin battled it out until Hocutt got into his groove towards the back half of the race. A caution shortened Hocutt's lead, but once the green flag hit, he refused to turn back, winning by a few car lengths over Erwin and driving into victory lane.
As darkness began to fall on Atlanta Motor Speedway on the WJP Investments Young Lions feature, Easley S.C.'s Aiden Garcia sat third as the race got underway, although he would not stay there long. Garcia made a strategic move from the jump and dominated as Parker Eatmon, who finished second, and Giovanni Ruggiero, who finished third, chased the leader.
The Masters feature had many lead changes, but it was Mark Swan of Athens who claimed victory after time restraints resulted in a 9 lap race.
The night was capped by The Associates Group Pro Legends race which entailed 25 laps of high speed action. Panama City's Timothy Watson got off to a commanding lead, but his lead shortened as cautions ensued. Caleb Healy of Shelbyville, KY gave him a run, but it was no match for Watson's speed as he won comfortably in a commanding performance.
"Caleb Heady was there, but it looked like he got taken out," said an ecstatic Watson in victory lane following his win. "Just being consistent and staying out front were the keys to the win."
In other feature action Thursday night, Hudson Canipe of Candler NC claimed the checkered flag in the Bandits division. Lane Mueller of Locust Grove won the FR8Auctions Rookie Bandolero feature race after an exciting final lap, and Ryan Younginer of Locust Grove drove to victory lane in the Chargers feature.
Here are the final results from Round 1 of 2021 Thursday Thunder:
WJP Investments Young Lions
1. Garcia, Aiden (Easley, SC)
2. Eatmon, Parker (Wilson, NC)
3. Ruggiero, Giovanni (Seekonk, MA)
4. Buice, Lanie (Locust Grove, GA)
5. North, Bailey (Hampton, GA)
6. Hendrix, Keaton (Homerville, GA)
7. Kade, Matthew (Hampton, GA)
8. Reynolds, Jackson (Marietta, GA)
9. Phillips, George (Charlotte, NC)
10. Bulger, Hudson (Perry, GA)
11. Yawn, Tony III (Roanoke, AL)
12. Kuehl, Lacy (Sarasoda, FL)
13. Burns, Hunter (Thomaston, GA)
14. Dibble, Oliver (Owens Cross Roads, AL)
The Byron Powersports Semi-Pro
1. Jackson, Nathan (McDonough, GA)
2. Gannon, Michael (Canton, GA)
3. Brown, Colin (Gray Court, SC)
4. Treschl, Jason (Lagrange, GA)
5. Wagman, Jarrett (Titusville, FL)
6. Taylor, Jonathan (Roswell, GA)
7. Hampton, Ian (Stockbridge, GA)
8. Tadrzak, Trey (Stockbridge, GA)
9. Campbell, Graham (Braselton, GA)
10. Alexander, Morgan (Locust Grove, GA)
11. Brady, Kenny (Marietta, GA)
12. Barfield, Trent (Hamilton, GA)
The Associates Group Pro
1. Watson, Timothy (Panama City, FL)
2. Hall, Cale (Griffin, GA)
3. Hicks, Joshua (Senoia, GA)
4. Jorgensen, Jensen (Stockbridge, GA)
5. Sawalich, William (Eden Prairie, MN)
6. Heady, Caleb (Shelbyville, KY)
7. Woodall, Nick (Canton, GA)
8. Clanton, Christopher (Brooks, GA)
9. Jorgensen, Taylor (Stockbridge, GA)
10. Graham, Gavin (Lakeland, FL)
11. Henderson, Kenneth (Alto, GA)
Masters
1. Swan, Mark (Athens, GA)
2. Clanton, Joey (Brooks, GA)
3. Yawn, Tony (Roanoke, AL)
4. Shore, Russell (Jefferson, GA)
5. Potter, Wes (Covington, GA)
6. Young, Phillip (Dallas, GA)
7. Shubert, Randy (Stone Mountain, GA)
8. Bowen, Barry (Jackson Lake, GA)
9. Jones, Benjamin (Macon, GA)
10. Meredith, James (Locust Grove, GA)
11. Plemons, Bill Jr (Locust Grove, GA)
12. Wehunt, Ronnie (Canton, GA)
Bandits
1. Canipe, Hudson (Candler, NC)
2. Malone, Beckham (Rock Hill, SC)
3. Dulin, Neal (Harrisburg, NC)
4. Honeycutt, Nate (Mount Pleasant, NC)
5. O'Neil, Baylor (Grantville, GA)
6. Flater, Mitchell (Conyers, GA)
7. Kendrew, Makenna (Senoia, GA)
8. Denton, Nicolas (Pascagoula, MS)
9. Krantz Jr., Darren (Huntington, NY)
FR8Auctions Rookie Bandoleros
1. Mueller, Lane (Locust Grove, GA)
2. Cauble, Carson (Salisbury, NC)
3. Mueller, Kerbi (Locust Grove, GA)
4. Britt, Emma (McDonough, GA)
5. Belk, Cash (Hoschton, GA)
6. Collins, Claire (Dallas, GA)
7. Young, Luke (Dallas, GA)
8. Rudolph, Briella (Griffin, GA)
Outlaws
1. Hocutt, Clay (Mobile, AL)
2. Erwin, Garrett (Covington, GA)
3. Esposito, Gianni (Dacula, GA)
4. Bacon, Kyle (Buchanan, GA)
5. Asztalos, Sebastain (Temple, GA)
6. Butler, Conner (Forsyth, GA)
7. Kade, Kayli (Hampton, GA)
8. Hicks, Katelyn (Senoia, GA)
Chargers
1. Younginer, Ryan (Locust Grove, GA)
2. Thompson, Ben (Buford, GA)
3. Yarbrough, Luke (Milton, GA)
4. Young, Lisa (Dallas, GA)
5. Anderson, David (Covington, GA)
6. Cosier, Brian (Marietta, GA)
7. Woodall, Amanda (Canton, GA)
8. Brown, Lee (Acworth, GA)
---
Atlanta Motor Speedway