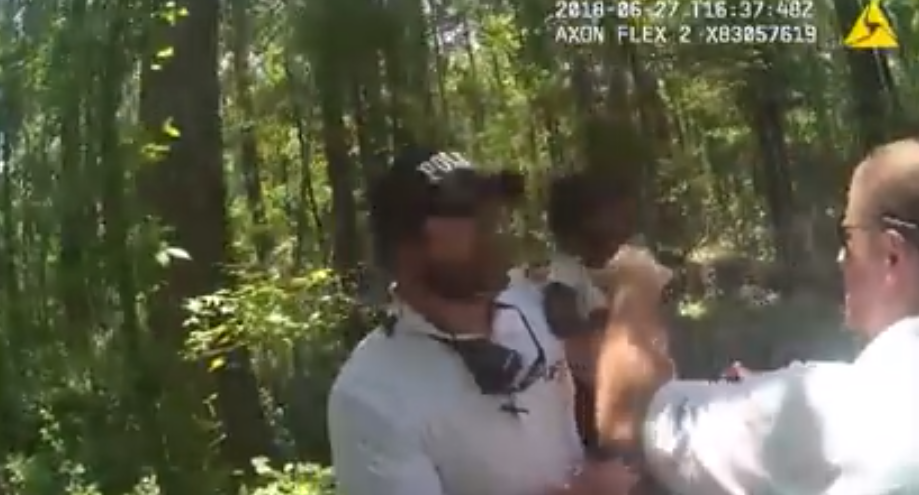 Body camera footage shows Georgia police officers rejoicing as they located a missing toddler Wednesday afternoon.

A two-year-old little girl was reported missing to the Port Wentworth Police Department and members of the neighboring Savannah Police recruits found the toddler hours later. Cadets Robert Parker, Luis Esquina, and Ernest Mobley say their team searched for about two hours before finding the toddler crying in the woods, according to WREG.
The video shows officers running toward a noise they believed to be a child crying out. The heavily wooded area where two-year-old Kamiyah Vicks was found was dense and close to a pond.
"The child has been located. Lord I love you, thank you!," one of the officers is heard saying as another swooped up the two-year-old to console her.
While reporting back to their supervisors at search headquarters, officers are seen offering water to the child, who quickly accepted. The child was taken to the hospital for evaluation.
A cheerful story ending for all!
You can watch the video below.
2-year-old found in woods after hours of searching in Port Wentworth, Georgia

THIS IS THE AMAZING MOMENT 2-YEAR-OLD KAMIYAH VICKS WAS FOUND: After being in the news business a long time, I have seen the worst outcomes imaginable when a child goes missing. So to see the BEST POSSIBLE SCENARIO today after a 2 year-old girl was found safe and sound after hours of searching for her near a pond and wooded area in Port Wentworth in extremely hot & humid conditions, I can't stress enough how rare & miraculous this is! We all have questions about how she went missing, and those will come to light but right now, just thanking the Lord above that she was found alive & well! Great work to all those first responders, police and others involved in helping to find Kamiyah! More: http://bit.ly/2KdXZjK

Posted by WTOC Mike Cihla on Wednesday, June 27, 2018