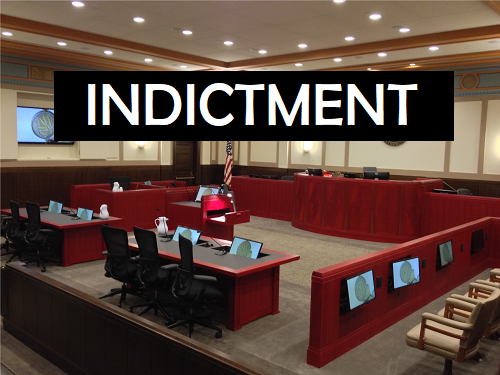 April and James Thompson have been indicted for defrauding an Atlanta timberland investment company out of more than four million dollars.
"The defendants allegedly stole millions of dollars through a false invoicing scheme," said U.S. Attorney Byung J. "BJay" Pak. "Employees who take advantage of their positions of trust will be prosecuted when they use their positions to engage in fraud schemes such as this."
"When a person takes advantage of a company by abusing the position they were entrusted to uphold, the FBI must hold them accountable," said Special Agent in Charge Chris Hacker of the FBI Atlanta field office. "We are committed to protecting companies from employees who are driven by personal greed and not the company's best interests."
According to U.S. Attorney Pak, the charges, and other information presented in court: April Thompson worked on behalf of a company named Kingwood Forestry Services ("Kingwood") that provided services to timber properties in various states.  Kingwood was contracted with Forest Investment Associates ("FIA"), an Atlanta-based company that provides timberland investment advisory and management services for institutional timberland investors.  At Kingwood, April Thompson managed invoices submitted to FIA and requested payments to contractors.
The indictment alleges that from 2011 through April 2019, April Thompson billed FIA for over $4 million for work that James Thompson had allegedly done on FIA timber properties.  However, these invoices were all fraudulent as James Thompson had never been an FIA or Kingwood contractor and never did any work on the timber properties.  As a result of these fraudulent invoices, April and James Thompson received over $4 million, which they then used for their own personal benefit.
April Thompson, 41, and James Thompson, 46, both of Maud, Texas were indicted by a federal grand jury in the Northern District of Georgia, on September 25, 2019, and had their initial appearances on October 1, 2019, in the Eastern District of Texas.
Members of the public are reminded that the indictment only contains charges.  The defendants are presumed innocent of the charges and it will be the government's burden to prove the defendants' guilt beyond a reasonable doubt at trial.
This Federal Bureau of Investigation is investigating this case.
Assistant U.S. Attorney Thomas J. Krepp is prosecuting the case.