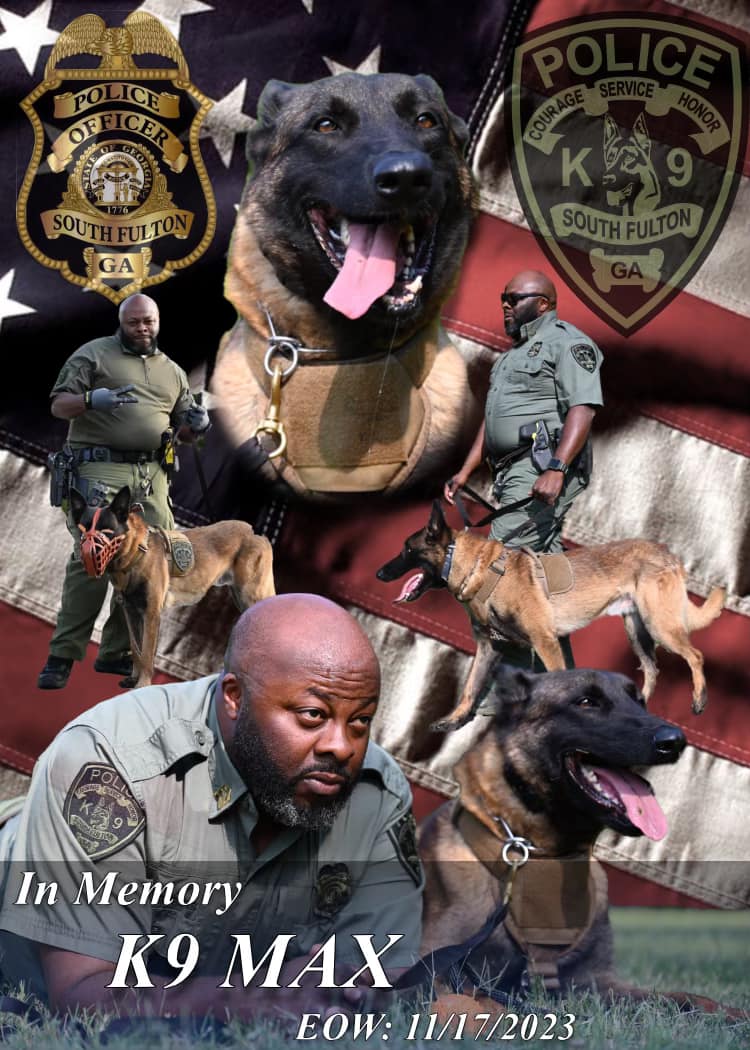 The South Fulton Police Department in College Park, Georgia is mourning the loss of one of their K-9 officers named Max. He was killed in the line of duty this morning. A memorial service is being planned to honor Max.

From SFPD:
The South Fulton Police Department is deeply saddened to announce the loss of one of our K-9 officers, Max, who was tragically killed in the line of duty. The incident occurred while officers were diligently working on an aggravated assault case stemming from early this morning, where a suspect had fled a traffic stop and discharged a firearm multiple times.
On November 17, 2023, at approximately 10:45 A.M., our officers received credible information that the suspect, who had previously escaped into the Camelot Condominiums, was spotted in the 4000 block of Lakemont Drive. Acting on this tip, one of our K-9 teams promptly responded to the location.
Unfortunately, during the operation, our K-9 Max was struck by gunfire by an officer from the College Park Police Department. The South Fulton Police Department is working closely with the College Park Police Department to thoroughly investigate this heartbreaking incident. We are committed to understanding the full circumstances of this tragedy and ensuring such an incident does not occur again. The suspect was taken into custody.
Our K-9 officers are not just dogs; they are valued members of our police family and community. The loss of our K-9 Max deeply affects us all, and we extend our heartfelt condolences to the handler and everyone who worked closely with our fallen hero. We appreciate the community's support and understanding during this difficult time. We also extend our gratitude to all officers and departments involved in the ongoing effort to ensure public safety.
In honor of our fallen K-9 officer, the department will hold a memorial service, details of which will be announced shortly. We invite the community to join us in remembering and honoring the bravery and service of our K-9 hero.