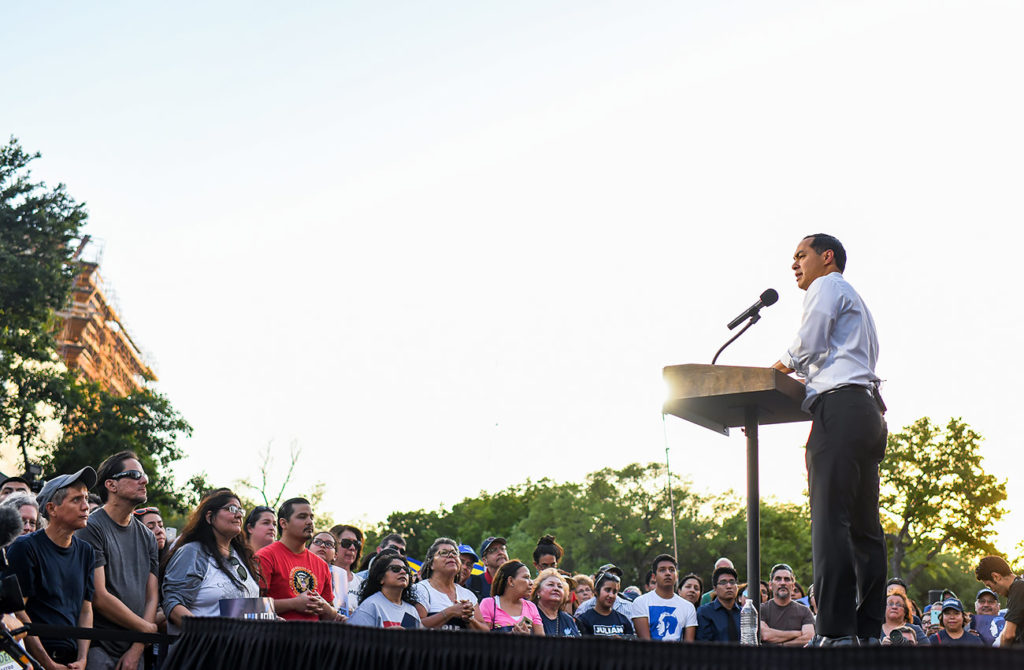 Presidential candidate Julian Castro has announced that one of his campaign platform pillars includes reforms on law enforcement to "combat police brutality" by centralizing police standards at the national level and yanking federal funding.
His plan, dubbed the "People First Policing Plan", was released on Monday. On his campaign page dedicated to the plan, the site explains that police brutality has been an important focal point of the campaign since it launched, saying "the frightening rate at which unarmed black and brown folks have been killed by law enforcement officers all over America" before noting a number of stories that made headlines around the nation in recent years.
Castro says there is "a crisis in public safety" and promises to "demand a federal response" if he elected president. Specifically, the plan calls for:
Establishing national standards for the conduct of police officers and local departments that receive federal funding
Restricting the use of deadly force unless there is an imminent threat to the life of another person, and all other reasonable alternatives have been exhausted
Adopting the use of body cameras to support responsible policing practices and ensure accountability of officer conduct
Eliminating the use of police officers as disciplinary agents in schools
Establishing responsibility and accountability parameters for officers to intervene if they witness a colleague utilizing excessive force or inappropriate conduct.

Requiring police officers to identify themselves, issue a verbal warning, and give the suspect a reasonable amount of time to comply

before the use of force
Restricting policing actions that cause collateral damage such as shooting at moving vehicles

Requiring law enforcement agencies to obtain written consent for consensual vehicle searches

Ending racial profiling and stop-and-frisk policies

Requiring pre-employment screenings to identify prejudices

Using federal grants to incentivize police departments to enact residency requirements and other efforts to ensure not only that law enforcement officers live in the communities they protect, but also that police departments look like the communities they serve

Requiring accredited implicit bias and other racial equity training for all police personnel

Establishing a public national database that tracks all police officers decertified in any state or locality

Incentivize state and local governments to use this national database when hiring officers.

Making it easier to hold offending officers accountable under criminal and civil law
Eliminating "consequence-free" weapon discharges and arrests by requiring strict reporting requirements
Investigating all fatal police shootings in the nation
Issuing an executive order to end the transfer of tracked and wheeled armored vehicles, high-caliber rifles, aircraft equipped with weapons, grenade launchers, and other military weapons, vehicles, and equipment under the federal government's 1033 program

Deprioritizing enforcement of minor offenses 

Ensuring law enforcement officers receive high-quality mental health and trauma support services 

Ending Section 287(g) agreements under the Immigration and Nationality Act, which allows local agencies to enforce immigration laws
Ending civil asset forfeiture practices nationwide
You can read the plan in its entirety here.
Castro served as the mayor of San Antonio, Texas from 2009 until he joined Obama's cabinet in 2014, which he did until 2017. He was also mentioned as a possible running mate for Hillary Clinton during the 2016 presidential campaign.  He is the twin brother of Congressman Joaquin Castro. On January 12, 2019, he launched his campaign for the Democratic nomination for president.