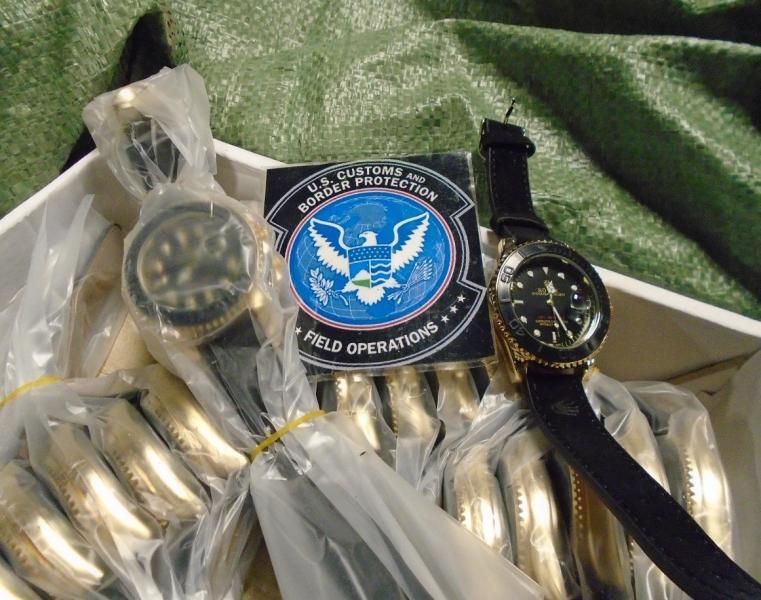 From September 1 to November 27, U.S. Customs and Border Protection officers in Louisville seized 164 shipments containing counterfeit goods worth more than $95 million, a 75% increase from this same time period last year.

Officers have been seizing counterfeit designer bags, jewelry, shoes sunglasses and much more. The products, if authentic, would have a manufacturer suggested retail price (MSRP) of more than $95,600,000. This is roughly $582,000 per shipment, and during this holiday season this threat is not going away. During these seizures, CBP officers work with CBP's Consumer Products and Mass Merchandising Centers for Excellence and Expertise, the agency's trade experts to verify through the trademark holder that the products are counterfeit.
CBP protects businesses and consumers every day through an aggressive Intellectual Property Rights (IPR) enforcement program. Importation of counterfeit merchandise can cause significant revenue loss and damage the U.S. economy. "Driven by the rise in E-commerce, the market for counterfeit goods in the United States has shifted in recent years from one in which consumers often knowingly purchased counterfeits to one in which counterfeiters try to deceive consumers into buying goods they believe are authentic," said Thomas Mahn, Louisville Port Director . "Often times the counterfeits are priced competitively just below a genuine product to avoid scrutiny by the consumer. The consumers are unaware that they're buying a dangerous product as the Counterfeit is just that good."
The profits from counterfeiting sales have been linked to funding organized crime, drug trafficking, and have been linked to terrorist organizations. These counterfeits also threaten the health and safety of the American people. "These counterfeits are often compromised of toxic substances such as lead, methanol, antifreeze, urine, arsenic, mercury, and cancer causing substances," Mahn continued. "Counterfeiters have no moral compass and will counterfeit just about anything to make a buck. We often encounter counterfeit makeup, perfumes, toys, clothing, electronics, machinery parts, basically, anything in demand we've seen it. The movement of these goods into online marketplaces pose a significant risk to the American consumer."
On a typical day in 2018, CBP officers seized $3.7 million worth of products with IPR violations. Learn more about what CBP did during "A Typical Day" in 2018.
As a result of CBP's enforcement efforts, ICE Homeland Security Investigations agents arrested 381 individuals, obtained 296 indictments, and received 260 convictions related to intellectual property crimes in 2018.
CBP's border security mission is led at ports of entry by CBP officers from the Office of Field Operations.  Please visit CBP Ports of Entry to learn more about how CBP's Office of Field Operations secures our nation's borders.