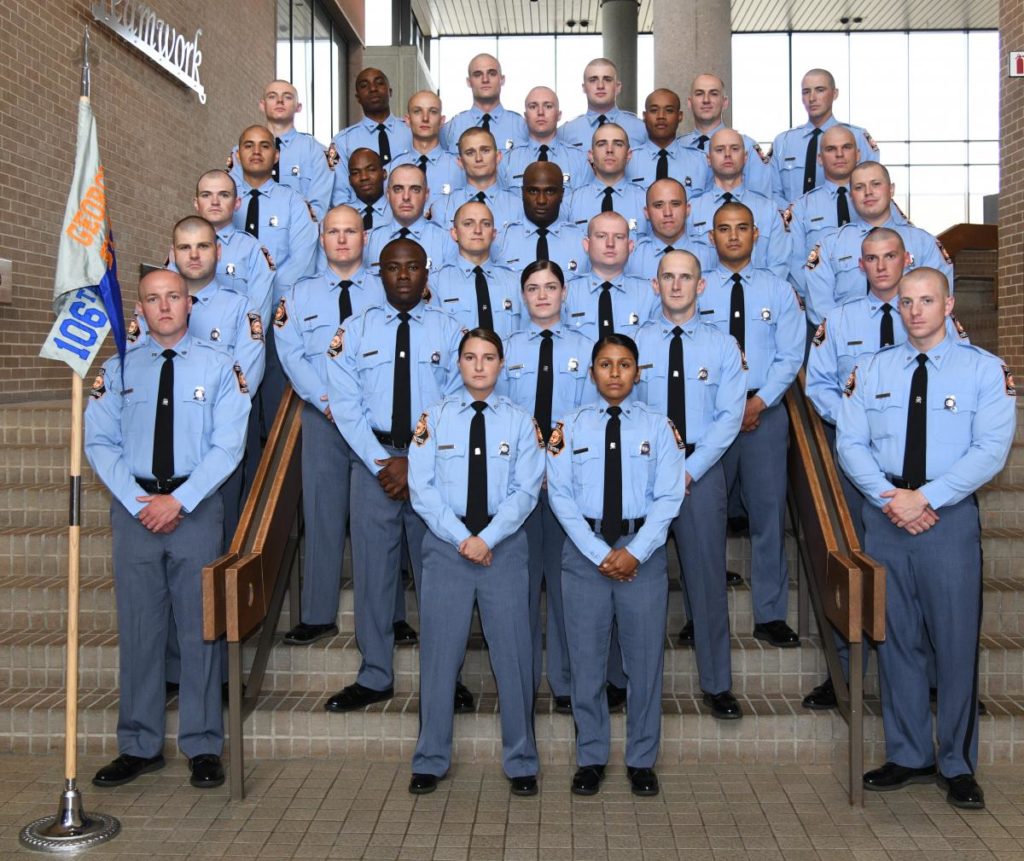 The Georgia State Patrol graduated its 106th Trooper School on Friday, August 16, at the Georgia Public Safety Training Center (GPSTC) in Forsyth.  After 32 weeks of intense training, 33 new troopers will report to one of the 52 patrol posts throughout the state. Governor Brian P. Kemp was the keynote speaker and he also issued the Oath of Office.
Additionally, remarks were given by Colonel Mark W. McDonough, Commissioner of the Department of Public Safety and Capt. Joshua Lamb, Director of Training.
As Trooper Cadets, they spend 20 weeks at the academy and 12 weeks in field training.  The Georgia Peace Officer Standards and Training Council (POST) requires all peace officers receive a minimum of 400 hours of Basic Mandate Training.  At the completion of Trooper School, these newly graduated troopers received over 1,500 hours of training, including driving, defensive tactics, vehicle stops, Spanish, criminal law and criminal procedure, firearms, accident investigation, and various other training.
"It  was an honor to go through this tough challenge of life together and I wish you all the best in your careers wherever it may lead you," stated class president, Trooper Jerry Slade, during remarks to his fellow class members. "We're right where we need to be," he added.
Four of the graduates received special honors for top performance in various fields of study. The honorees were:
Driving Proficiency – Trooper Kyle Thompson
Firearms Proficiency – Trooper Clarence Johnson
Highest Academic Average – Trooper Nicholas Hawkins
Top Gun – Trooper Nicholas Hawkins
Trooper Hawkins also received a $1,000 scholarship towards a bachelor's degree in Criminal Justice from Reinhardt University for having the highest academic average in his class.
Additionally, the following graduates were recognized for their leadership: Trooper Erik Austell, Vice President; Trooper David Allan, Secretary/Treasurer; Trooper Patrick Pollett, Chaplain; Trooper Rebecca Moran, Sergeant-at-Arms; and Trooper Evan Joyner, Pennant Bearer.
Each commissioned trooper will report to the following assigned post:
| | | |
| --- | --- | --- |
| TROOPER | HOME COUNTY | POST ASSIGNMENT |
| Erguens Accilien | Columbia | Post 21 – Sylvania |
| David Allan | Hall | Post 6 – Gainesville |
| Jalin Anderson | Richmond | Post 33 – Milledgeville |
| Erik Austell | Bibb | Post 15 – Perry |
| Evan Bauza | Chatham | Post 11 – Hinesville |
| Logan Beck | Camden | Post 23 – Brunswick |
| Christopher Cates | Rabun | Post 27 – Blue Ridge |
| Seferino Chavez | Clayton | Post 47 – Forest Park |
| Demon Clark | Greene | Post 17 – Washington |
| Christopher Cordell | Catoosa | Post 5 – Dalton |
| Clint Donaldson | Coweta | Post 49 – Motor Unit |
| Eric Guerrero | Coffee | Post 36 – Douglas |
| Jonathan Hayes | Paulding | Post 29 – Paulding |
| Nicholas Hawkins | Walton | Post 46 – Monroe |
| Bradley Hunt | Muscogee | Post 2 – LaGrange |
| Clarence Johnson | Richmond | Post 25 – Grovetown |
| Evan Joyner | Muscogee | Post 2 – LaGrange |
| Richard Justice | Columbia | Post 25 – Grovetown |
| Malcolm Martinez | Cobb | Post 47 – Forest Park |
| Rebecca Moran | Gwinnett | Post 51 – Gwinnett |
| Paul Osuegbu | Barrow | Post 6 – Gainesville |
| Jose Perez | Colquitt | Post 13 – Tifton |
| Patrick Pollett | Columbia | Post 25 – Grovetown |
| Troy Pudder | Houston | Post 30 – Cordele |
| Caleb Pyle | Coweta | Post 24 – Newnan |
| Daysi Ramirez | Houston | Post 15 – Perry |
| Gabriel Rampy | Carroll | Post 4 – Villa Rica |
| Adam Salter | Pike | Post 26 – Thomaston |
| Jerry Slade | Crisp | Post 30 – Cordele |
| Kyle Thompson | Berrien | Post 36 – Douglas |
| James Vaughan | Sumter | Post 10 – Americus |
| Brian Whelehan | Bryan | Post 23 – Brunswick |
| Kelley Whitaker | Miller | Post 14 – Colquitt |