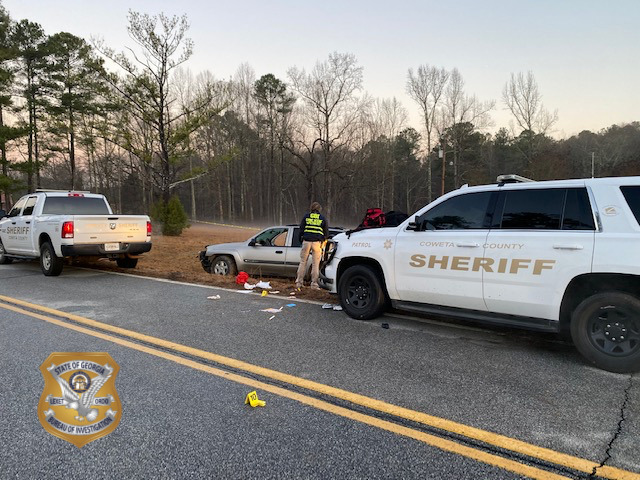 The GBI is investigating an officer involved shooting in Newnan. The Coweta County Sheriff's Office asked the GBI to conduct an independent investigation on January 9, 2023. One man was shot and killed. No officers were injured in this incident.

Preliminary information indicates that at approximately 4:00 a.m., the Coweta County Sheriff's Office joined an ongoing chase as it entered their jurisdiction from Carroll County that was initiated by the Whitesburg Police Department. The highspeed chase continued through northwest Coweta County with the driver, identified as Jackie L. Haynes, age 52, of Whitesburg, driving on the wrong side of the road and attempting to strike patrol vehicles. A Precision Immobilization Technique (PIT) maneuver was completed successfully on Haynes' SUV and it came to rest on Handy Road in Coweta County. Deputies approached the stopped SUV and attempted to take Haynes into custody. When Haynes refused to get out of his SUV, he was Tasered, however, it was ineffective. Deputies then shot a pepper ball gun into the SUV. At this time Haynes attempted to drive away from the deputies. As Haynes drove toward a Coweta County Sheriff's Office deputy, another deputy shot into the SUV, hitting Haynes multiple times. Haynes was taken to Newnan-Piedmont Hospital, where he later died. An autopsy on Haynes will be conducted by the GBI Medical Examiner's Office.
The GBI will conduct an independent investigation. Once complete, the case file will be given to the Coweta Judicial Circuit District Attorney's Office for review.
---
From Coweta County Sheriff's Office:
On 01-09-23, shortly after 4:00am, Coweta County Sheriff's Office was alerted to a vehicle pursuit entering Coweta County from a neighboring jurisdiction. CCSO Patrol Units responded to the area of West Highway 16 at the county line to join the pursuit.
As CCSO Deputies entered the pursuit, the vehicle continued on roads in western Coweta County at high rates of speed and driving on the wrong side of the roadway. Patrol Deputies attempted multiple PIT maneuvers on the vehicle before successfully stopping it.
After a successful PIT maneuver, Deputies moved in, on foot, and attempted to extricate the driver. With Deputies on three sides of the vehicle, the driver accelerated back toward the roadway at which time deadly force was used. First Aid was rendered on scene and the male was transported to a local hospital where he was pronounced dead.
The Georgia Bureau of Investigations has been called in to investigate the incident. The name of the deceased is not being released at this time, as it is unknown if family has been notified.
Please refer any further questions regarding this incident to the GBI.