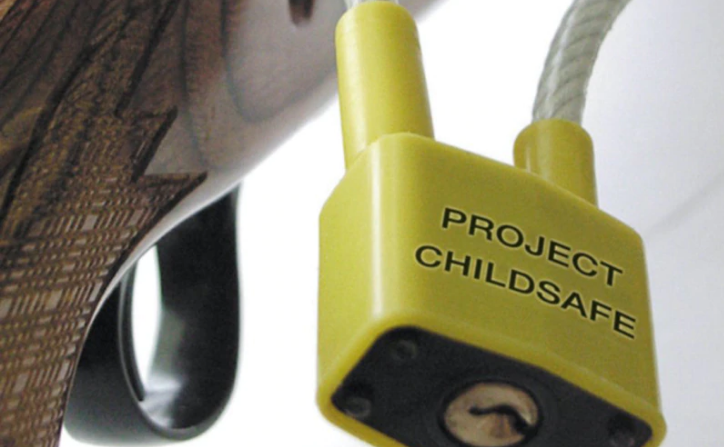 Following Tragic Shooting Death of Jones County Toddler, U.S. Attorney, Sheriff Announce Free Gun Locks for Citizens
Hundreds of free firearm locking devices are available for citizens, announced Charles "Charlie" Peeler, the United States Attorney for the Middle District of Georgia and Jones County Sheriff R.N. "Butch" Reece.

U.S. Attorney Peeler and Sheriff Reese made the joint announcement Wednesday, a week after a Jones County two-year-old was accidentally shot to death by his five-year-old sibling. The firearm used was loaded and left unattended inside the home when the children began to play with the gun and it was fired. Sheriff Reese will have 100 free gun locks available for citizens to pick up at the Jones County Sheriff's Office beginning Wednesday, June 19.
"This tragic accident serves as a reminder for all gun owners to make it a practice to lock up a firearm, and potentially save a child from injury or death," said Charlie Peeler, the U.S. Attorney. "Free gun locks are available across the Middle District.  If you need one, please pick one up at one of the distribution sites.  I am grateful for our law enforcement partners who have agreed to distribute the locking devices, and help protect our children."
"We promote responsible gun ownership in Jones County. It only takes a moment to prevent a lifetime of pain and suffering at the loss of a family member. Gunlocks save lives," said Jones County Sheriff Butch Reece.
This initiative is part of Project Safe Neighborhoods (PSN), the centerpiece of the Department of Justice's violent crime reduction efforts.  PSN is an evidence-based program proven to be effective at reducing violent crime.  Through PSN, a broad spectrum of stakeholders work together to identify the most pressing violent crime problems in the community and develop comprehensive solutions to address them.
The U.S. Attorney's Office for the Middle District of Georgia received the firearm safety kits from Project ChildSafe. Since 1999, Project ChildSafe has partnered with more than 15,000 law enforcement agencies to distribute more than 37 million firearm safety kits nationwide. You can learn more about Project ChildSafe and the National Shooting Sports Foundation by visiting www.projectchildsafe.org.