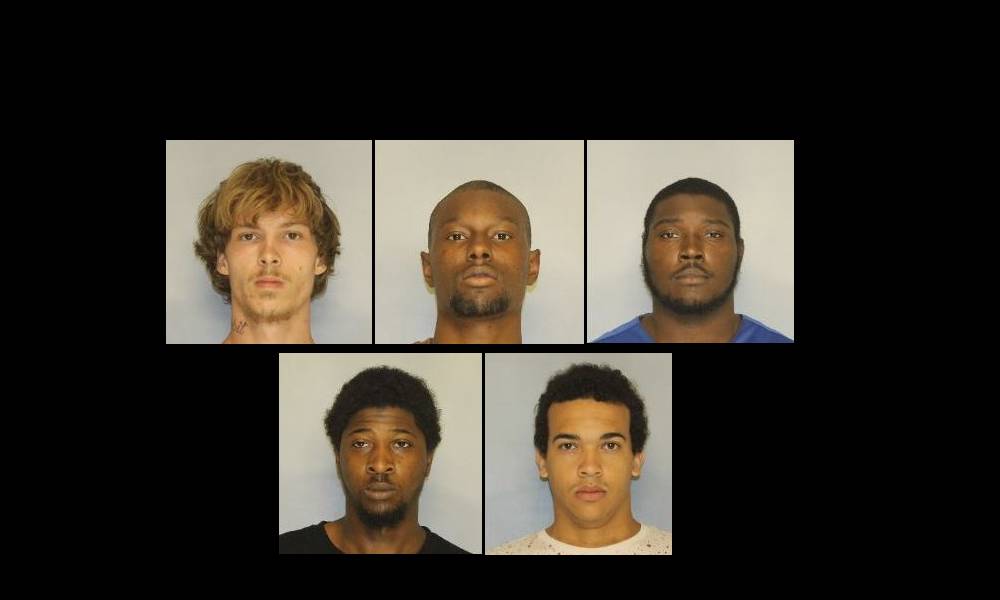 Jesse James Smallwood, Delveccho Waller, Jr., Bruce Thompson, Judah Coleman Bailey, and Dashun Martin have been indicted by a federal grand jury for the offenses of conspiring to commit, and commission and attempted commission of, arson of a police car following a protest stemming from the death of George Floyd.

"While using the cover of peaceful protests in Gainesville, the defendants allegedly sought out and intentionally burned a police vehicle," said U.S. Attorney Byung J. "BJay" Pak.  "Those seeking to perpetrate criminal acts of violence toward our law enforcement officers should expect to be prosecuted to the full extent of the law."
"The FBI Atlanta Field Office is committed to supporting our local and state law enforcement partners in an effort to maintain public safety in the communities we serve," said Chris Hacker, Special Agent in Charge of FBI Atlanta. "We are not focused on peaceful protests, but instead concentrating on identifying, investigating and disrupting those individuals who are taking advantage of the protests to incite violence and engage in criminal activity."
"We want our community to know we stand with them during their rights to peacefully protest. Sadly, agitators that do not necessarily share the same goals as our community took this opportunity to target one of our officers at his residence. We will not stand for this type of destruction and violence in our community," said Jay Parrish, Chief of Police, Gainesville Police Department.
According to U.S. Attorney Pak, the federal charges, and other information: Early on the morning of June 2, 2020, a Gainesville Police Department patrol vehicle was set on fire in the parking lot of a local apartment complex. Officers responded immediately and extinguished a fire in the rear of the patrol vehicle. A witness reported seeing an older model vehicle with no lights parked near the entrance of the apartment building. The witness saw two subjects exit the vehicle and approach the patrol car, after which the witness heard a loud bang followed by a bright light.  The witness then saw smoke emanating from the rear of the patrol car.
Based on the information from the witness, investigators issued a radio lookout for the suspects' vehicle. Shortly thereafter, police officers saw a vehicle matching the witness's description parked at a nearby gas station and convenience store. The driver, Jesse James Smallwood, agreed to speak to one of the officers and gave permission for his car to be searched. During the search, officers recovered three spent explosives and a flare gun.  Smallwood and his passengers, Waller Jr., Thompson, Bailey, and Martin, were all arrested for the arson.
Jesse James Smallwood, 21, Delveccho Waller, Jr., 21, Dashun Martin, 23, Judah Coleman Bailey, 20, all of Gainesville, Georgia, and Bruce Anthony Thompson, 22, of Oakwood, Georgia, were indicted June 16, 2020.  Members of the public are reminded that the indictment only contains charges. The defendants are presumed innocent of the charges and it will be the government's burden to prove the defendants' guilt beyond a reasonable doubt at trial.
The FBI-Gainesville, the Gainesville Police Department, and the Gainesville Fire Department are investigating this case.
Assistant U.S. Attorney Greg Radics is prosecuting the case.
This case was brought as part of Project Safe Neighborhoods (PSN). In keeping with the Attorney General's mission to reduce violent crime, the Northern District of Georgia's PSN program focuses on prosecuting those individuals who most significantly drive violence in our communities, and supports and fosters partnerships between law enforcement and schools, the faith community, and local community leaders to prevent and deter future criminal conduct.