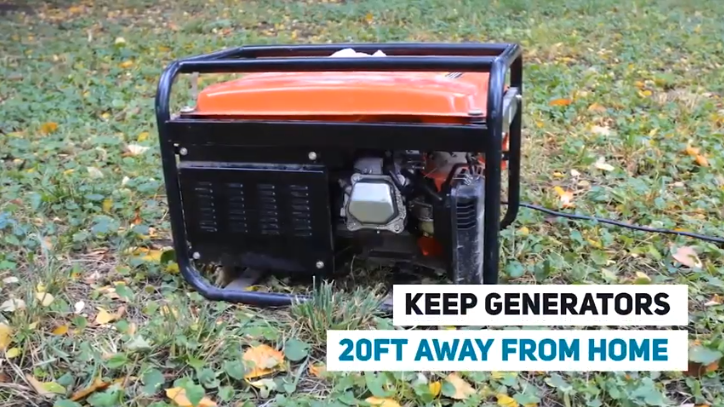 As hurricane season gears up in the Peach State, the U.S. Consumer Product Safety Commission (CPSC) is reminding consumers to keep important warnings about the lethal hazard of carbon monoxide poisoning in mind.
Consumers in the path of any storm need to be especially careful during power outages and take the proper precautions to avoid deadly carbon monoxide poisoning while using portable generators, which emit carbon monoxide as exhaust. Proper precautions include the following:
Never use a generator inside a home, garage or shed. Carbon monoxide from generators is poisonous and can kill you in minutes. Carbon monoxide is called the "invisible killer" because you cannot see it or smell it.

Story continues below.
Use your generator outside your house only, at least 20 feet from your home and position the generator so the exhaust is directed in a safe direction, and not towards windows or other points of access to living quarters.

Make sure you have working carbon monoxide alarms in your home. They should be placed outside separate sleeping areas and on each floor of your home.

Make sure you have working smoke alarms too. Check the batteries!  They should be placed on every level of your home, outside sleeping areas and inside each bedroom.
Story continues below.
Keep the generator dry. Do not use it in the rain or in wet conditions. If needed, protect a generator with a canopy. Never manipulate a generator's electrical components if you are wet or standing in water.
Never attach a generator directly to the electrical system of a structure, such as a home, office or trailer, unless a qualified electrician has properly installed the generator with a transfer switch. Attaching a generator directly to a building electrical system without a properly installed transfer switch can energize wiring systems for great distances. This creates electrocution risk for utility workers and others in the area.
If you or others show symptoms of CO poisoning, such as dizziness, headaches, nausea or tiredness, get to fresh air immediately and seek medical attention. Do not re-enter the area until it is determined to be safe by trained and properly equipped personnel.