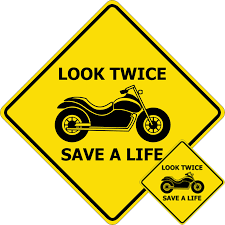 The Department of Driver Services' (DDS) Georgia Motorcycle Safety Program (GSMP) has received a grant for $83,464.00 from the Governor's Office of Highway Safety (GOHS).  This funding will be used to help reduce motorcycle fatalities, increase driver awareness of motorcycles, and educate motorcycle riders about safety initiatives.  According to the Insurance Information Institute, motorcyclists are 28 times more likely to die in a crash than an automobile rider.
"The grant from the GOHS enables the Georgia Motorcycle Safety Program (GMSP) to continue making the roads safer for riders and non-riders," said DDS Commissioner Spencer R. Moore. "We thank the GOHS for our strong partnership in helping the GMSP educate and encourage all Georgia drivers to Share the Road."
The GOHS grant allows the GMSP to continue its efforts promoting state and national safety initiatives. The GMSP promotes driver awareness of motorcycles on the highways, rider education at 40 locations across the state, and motorcycle safety initiatives.
The GMSP regulates motorcycle training for new and experienced riders. Classes focus on riding a motorcycle legally and safely. The GSMP offers classes with increasing levels of difficulty including the Basic Rider's Course (BRC), the Basic Rider Course2 (BRC2) and the Advanced Rider Course (ARC). The BRC is for new riders and students do not need a motorcycle or equipment to take this class. Upon passing this class, a rider obtains a 90-day license waiver card that exempts them from both the written and on-cycle skills test needed to earn a Class M license in Georgia.
"Motorcycles are complicated to ride, and we want to ensure everyone has access to proper rider education," said Holly Hegyesi, GSMP Program Manager.  "Motorcycle safety classes are essential for new and experienced riders alike.  Almost one third of motorcycle fatalities involves a rider without a valid license."