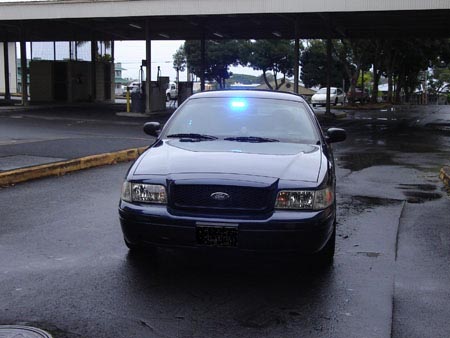 The Bulloch County Sheriff's Office, in conjunction with the Statesboro Police Department and the Georgia State Patrol, recently launched an initiative to curtail distracted driving.
Word of the pull overs and citations spread like wildfire on social media and what seemed to be of most concern to citizens was the use of unmarked vehicles. Accusations of wrongdoing and statements of 'illegitimate tickets' plagued the interwebs.
So, AllOnGeorgia attended the press conference at the Bulloch County Sheriff's Office on the initiative Thursday afternoon and clarified about the use of unmarked vehicles.
To put it succinctly, it is not against the law in Georgia for a law enforcement officer to use an unmarked vehicle to issue a citation or arrest someone.
Georgia law allows for the use of unmarked vehicles, but stipulates that issuing citations or conducting traffic stops as an unmarked vehicle cannot be the sole, full-time use of the vehicle. It is not uncommon for a fully uniformed officer to be utilizing an unmarked vehicle while working a gang unit, a crime suppression unit or some other form of investigations. While these officers have the ability to enforce traffic (and other) laws and issue citations, it is not their primary duty.
Georgia law in O.C.G.A. 40-1-7 reads:
Whenever pursuing a person in violation of a traffic related offense, a uniformed law enforcement officer who is assigned routinely or primarily to traffic law enforcement or other traffic safety duties on the roadways or highways of this state must place a visible blue light on the roof of his or her vehicle if such vehicle is not equipped with permanent exterior mounted roof blue lights…This Code section shall not apply to any officer assigned to special operations activities or responding to an immediate threat to public safety as a result of an accident or other emergency.
In the GSP/BCSO/SPD initiative instances, the law enforcement officials utilizing the unmarked vehicles are not full-time traffic enforcement officers. All three agencies are using marked patrol cars as part of the operation as well, many of which very well may be dedicated to only traffic enforcement.
The law also caps the number of vehicles without blue lights an agency is permitted to have at any given time.
So, YES, these officers, deputies, and troopers are making lawful stops and YES, should you receive a ticket or be arrested, you will have to answer for it in court.
If you are ever concerned about an unmarked vehicle attempting to pull you over, there are exceptions that allow for a motorist to get to a safe and/or more public location. Just make sure you slow down and use your turn signal so the LEO is aware you intend to stop. Additionally, drivers can call the 911 call center to verify their location that an officer is attempting to pull over their vehicle.