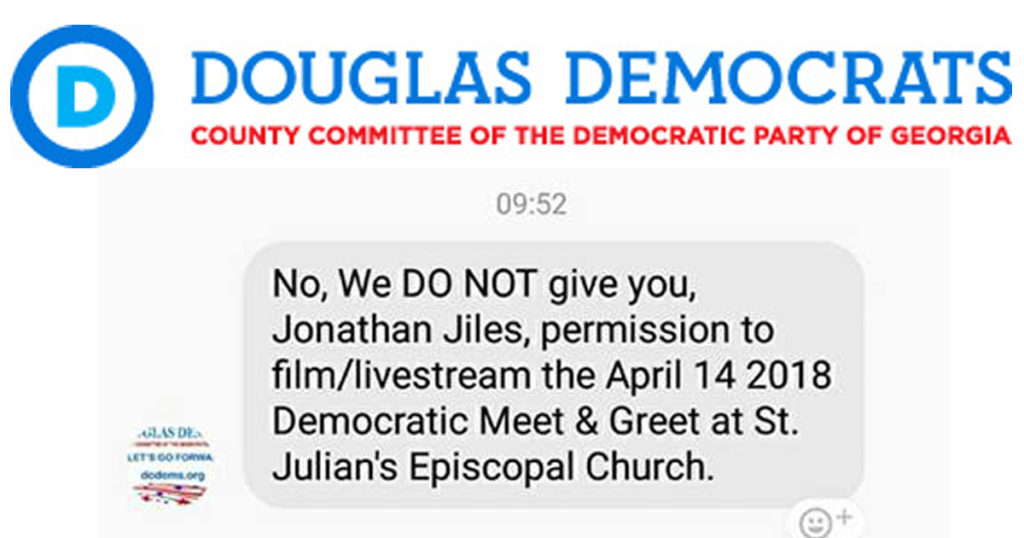 The following article is an editorialized opinion piece that reflects the views of the author only and not necessarily those of All On Georgia.

The Douglas County Democrats are hosting a "candidate meet & greet" on Saturday, April 14 at 9 AM.  According to a public Facebook "invite" "Douglas County Democratic Candidates in the May 22 General Primary election will speak about their particular platforms. After all [sic] have spoken, those in attendance are invited to meet and greet the candidates one-on-one."
I felt that this would be a fantastic event to live stream on All On Georgia – Douglas to showcase candidates for the upcoming primary.  As this is not a public event,  I reached out to the Douglas County Democrats through their Facebook page, requested permission to live stream the event.
You can imagine my shock at the response.  I routinely cover an array of meetings that do not fully sync with my political beliefs, including Republican functions.  Several journalistic colleagues, not all of whom work for All On Georgia, have told me that this lack of access may have occurred because of this viral video:
Perhaps it is.
In any event, I do regret to inform you that All On Georgia – Douglas will not be covering the Douglas County Democrats Meet & Greet Candidate forum on April 14th, because we were denied access.
I still encourage everyone to attend the event on April 14th at 9 AM at St Julians Episcopal Church.