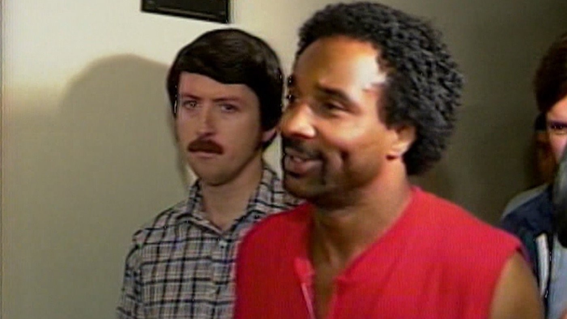 Serial killers were supposed to do their evil in Boston, Los Angeles or Chicago.

Columbus, Ga., was Colonel Chick, Katie the Cow, Miss Patsy, Wednesday night wrestling, Wells Dairies, Weracoba Park and the Water Wiz.
During a phone conversation with a long-time friend a week and a half ago, the light bulb went off in my mind. "Do you realize I was 23 years old when Carlton Gary started his reign of terror?" I rhetorically asked.
In 1977, I was in my sophomore year as a Columbus TV anchor and reporter. Three weeks earlier, I had moved from WRBL to WTVM.
As a little boy who lived in the parsonage of Sherwood Methodist Church between 1956 and 1961, the idea of one man striking terror into our town was unthinkable. People kept their doors unlocked in the daytime. Men left toolboxes in their yards without fear of theft. Kids walked or rode bikes to school.
When a police monitor blared out a suspicious call on a Friday afternoon in September 1977, none of us on the Action 9 News team had a clue we were about to experience the first chapter of a real life murder mystery. Because most of us were editing other stories for the 7 o'clock newscast, Mitzi Oxford — who had just moved into the role as WTVM's lead weathercaster — went to the scene.
Ferne Jackson, sister-in-law of the former state senator and future Columbus mayor Harry Jackson, was found dead — strangled to death with a nylon stocking. She was 60. A debate ensued in our newsroom and with other media in town as to whether the word "elderly" should be used.
We did not have a weekend newscast on WTVM but general manager Lynn Avery was concerned enough that he made a rare appearance onto our set during a commercial break. Addressing my co-anchor and news director Kathy Pepino, Avery asked:  "Are you going to commission people to be on call in case something else happens?"
Kathy assured him she had things under control. Avery was oblivious to the fact that he was still talking to us on live television, back turned to the camera, when the break ended.
I checked in Saturday morning. Kathy gave me the okay to go on to Auburn with my buddy John Hamilton. We saw the Tigers take one on the chin against Southern Mississippi 24-13. We talked a bit about the murder on the drive back to Columbus. Mostly, John griped about Auburn coach Doug Barfield's play-calling.
Eight days later, I was called early on Sunday morning. The fear was a second woman had been strangled to death.  A production videographer met me near Cross Country Plaza in front of the home of 71-year-old Jean Dimenstein. Neighbors nervously walked around their yards amidst a plethora of police cars.
Realtor Charlie Morgan's wife agreed to talk on camera.
"What's going on in our town? We're all scared to death," she said.
As glad as I was to have the comment for my story, I questioned her wisdom in offering it.
I talked to a couple of police officers. They were reluctant to say anything. One did tell me that the Dimenstein murder fit the same pattern as Jackson's.
Eventually, I went four of the crime scenes. With each passing one, I became more emotionally nauseous. Every time we heard certain codes on the police monitor, we questioned if this would be another murder. Five more times, it was.
Over the next several months, I saw the best and worst of journalism in Columbus. I also saw and heard the best and worst in our community.
The strong suit in Columbus media during those horrific months was relentlessness. Police Chief Curtis McClung, a man I genuinely respected, was old school when it came to answering reporters' questions about the murders.  He favored saying nothing.
Ultimately, the leadership of the Columbus Press Club — which was headed by Ledger-Enquirer reporter David Everett at the time — forced the hand of Chief McClung. David Hopkins, a former WRBL reporter with law enforcement experience, was hired as public information officer for the Columbus Police Department.
Prayer vigils and Sunday sermons addressing the rampant fear were on the rise. As one who was a pastor's son and understood the devout religious life in Columbus, I convinced Kathy that we needed to do a series of reports on the role of the church in helping the community through the crisis. The first of my Associated Press awards was for that series.
Yet, at times, we were sent on assignments that made us uncomfortable. My videographer Lee Davis and I were sent to cover the burial service of one of the victims. While we stayed at a considerable distance from the funeral home tent to shoot our footage, we could not escape the wrath of mourners who were aghast at our presence.
One woman, intent on giving me a piece of her mind, railed. "You news people have no heart, no concern, no compassion for these people," she said. "The very idea of you showing up with a camera when this family is grieving.  I want you to know how I feel."
As we drove away, Lee and I both expressed our misgivings.
"You know, a funeral service and a burial are a private thing," Lee said. "Aren't you supposed to ask for permission to shoot video at something like that?"
I agreed.
"I didn't like the way that lady chewed us out," I said, "but I don't blame her. We just showed up."
When we returned to the newsroom, we requested not to be sent to any more funeral services or internments unless the victim's family had given us permission. I made that a policy several years later when I became a news director, even if every one of my colleagues disagreed with that decision.
After the fourth strangling, I encountered my friend and former WRBL colleague David Eisen at a pizza restaurant. We discussed having been mutually warned by police to examine the inside of our cars at night before entering them.
"I don't unlock my door until I check the back seat and the passenger's side up front," Eisen told me.
I followed the same procedure.  Concerns had been shared with us that the killer might try to go after a journalist. Reason existed to believe that he fit the profile of one who would watch news coverage of his exploits.  If he became angered at the reports, he could take his ire out on a newscaster.
After the third murder, another debate ensued in the community and within newsrooms over use of the label "The Stocking Strangler." Many callers were upset at the reference. One scoured me about it on the phone."We don't need to be compared with The Boston Strangler in Columbus, Georgia," he said. "All you're doing is giving him more spotlight. Don't you have anything better to do than that?"
That was one of the nicer calls.
For a while, we compromised on a reference to "The Columbus Strangler," but national outlets, especially ABC News, solidified the name "Stocking Strangler" to our unknown villain.
Two of the victims had quasi-connections to me. My future wife's second grade teacher was Martha Thurmond, the fourth woman killed. Janet Cofer, the final victim, was a member of my future in-laws' Sunday School class at Wynnton United Methodist Church.
The worst of our community erupted after Thurmond's murder. To a degree, people who participated in a semi-witch hunt might have been forgiven because the entire city was desperate for an arrest.
One evening, between our 7 and 11 o'clock newscasts, we fielded approximately 600 calls in the WTVM newsroom.  A rumor spread like wildfire that led to people fingering a young man as the strangler and making accusations toward journalists that we were protecting him.
One call I took went something like this: "Y'all all know who did it. Every last one of y'all know who did it but y'all are just covering up for him because his Daddy was a big name."
Daddy, in this case, was a recently deceased television executive.  Amateur armchair detectives were certain the man's son was the killer. No rational or reasoned argument would convince them otherwise.
Thank goodness social media did not exist 41 years ago for a new generation of conspiracy theorists has raised the same name again online in recent weeks.
One of our female reporters — who I considered to be a tough cookie and still do — took a call one night from a most irrational viewer who accused her and our entire news team of creating unnecessary hysteria. The woman called our reporter an unprintable name and engaged in a personal attack. I never saw my colleague emotionally break down before or after that night but she exploded in tears.
We were all accused of attempting to use the story of the Stocking Strangler to further our personal careers. One man let me know it no uncertain terms at a school Halloween carnival where I was judging costumes. "You're just sensationalizing everything so you can go to New York," said the man, who never introduced himself "I don't know how I could live with myself the way you go on and on about these murders every night."
I offered an edited number of those reactions for a column in 2004 in an Electronic Media magazine article entitled: "The Viewers Don't Always Get It Right."
Not only were we not looking to go to New York, more than one of us pondered whether we might consider an alternate career. The emotional toll was enormous on all but the most emotionless of journalists. In that day, no one considered the novel idea of employing mental health counselors to help reporters decompress.
On a weekend trip home to Kingsland, I discussed the prospect of getting out of TV news with my father, Rev. F.J. Beverly. He gave me his usual wise advice. "If you want to do that, just be sure it's not because you're running from it," he said.  "But you're going to find it's not easy in any other job you do, even in the church."
In May 1984, I was in my first week as news director of WWAY in Wilmington, N.C.  My phone rang and it was Andy Still, a former colleague at WTVM, who had become a news anchor at WSAV in Savannah.
 "Are you sitting down?" he asked.
"They're having a police convention here and I went out to have coffee with (then Columbus police chief) Jim Wetherington)," Andy said. "He was called to the phone. When he came back, he said, 'Looks like I'm going to have to leave early. That call was about an arrest in Albany. They think this may be the strangler."
For once, a name could be attached to the most infamous individual crime wave in Columbus history. Carlton Gary would be extradited to Columbus. Two years later, he stood trial and was convicted of the murders of three of the women he was suspected of killing.
Years passed. My wife and I adopted two daughters. I left daily television news in 1992 to become a college professor of broadcast journalism. My parents retired to their native city of Waycross.
As the years rolled on, the conversation back in Columbus or Waycross would periodically revert back to Carlton Gary. At times, adjectives such as "despicable" and "vile" would be among kinder ones to refer to the convicted Stocking Strangler.
I supervise a daily newscast produced and anchored by my students at Union University in Jackson, Tenn. Occasionally, when the time is appropriate, I have woven stories for them about the odyssey of The Stocking Strangler. Usually, those tales are in answer to the question of what was the most difficult story I ever reported.
People in the television audience have the misguided perception that journalists thrive on violence and death.  A serial killer is fodder for a career to skyrocket. In their minds, it is success at the hands of murder.
Try measuring the many, many nights we left WTVM after the 11 o'clock news, arrived at our individual homes or apartments and could not sleep well. Our worries were the same as the community's.  I was a member of a church that had a number of senior-aged women who could easily have been targets.
On the night of Carlton Gary's execution, as I watched live reports from Jackson, Ga. on both WTVM and WRBL on my Roku television set, I was struck by a stark notion. Few of the reporters assigned to the execution were even born when Gary's rampage began. They know what they have researched or been told about his mark on Columbus history.  But they didn't live it.
I heard the word "closure" as the constant theme on both stations. Maybe because two generations have passed since Carlton Gary first struck terror on a Friday afternoon in 1977.  Maybe because all of the victims would now be more than 100 years old were they still alive.
I'm not certain I agree that closure will ever occur, even with Carlton Gary's execution. The grandchildren and great grandchildren no longer have to live with the worry of whether their ancestor's killer will live or die.
For those of us who lived, worked, reported, and feared those eight horrific months in 1977 and 1978, we can never truly close the door. No, closure is not an accurate word. Too many of us still want to ask the one question that will forever stump us about Carlton Gary:  why?
That answer now goes with him to his grave.
Steve Beverly is a former anchor-reporter at WRBL and WTVM. He is now a professor of broadcast journalism at Union University in Jackson, Tenn., a TV historian and a retired TV college sportscaster. E-mail Steve at:  sbeverly@uu.edu. Follow him on Twitter at @MrTVClassics.