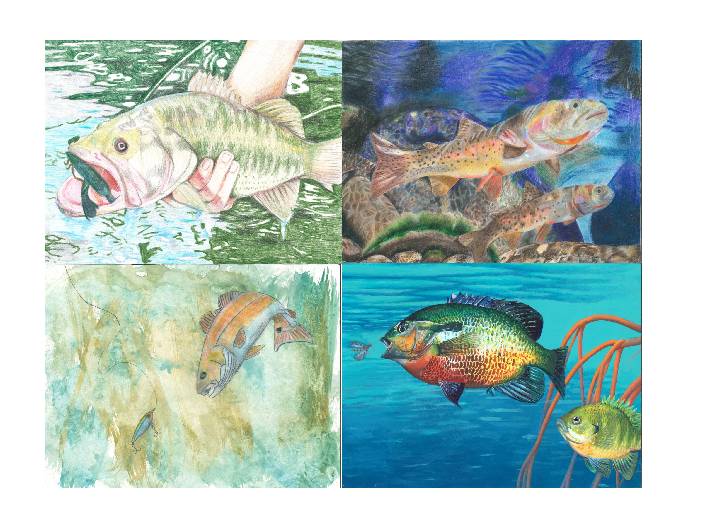 The Georgia Department of Natural Resources, Wildlife Forever, and Title Sponsor Bass Pro Shops are proud to announce the winners of the 2020 Georgia Fish Art Contest.

The Wildlife Forever Art of Conservation Fish Art Contest introduces youth to the world of aquatic conservation by blending art and science to unlock the magic of fish and fishing. The 2020 National Fish Art Contest received over 5,000 entries from 47 states and 32 international countries.
"The Georgia Fish Art Contest is an incredible way to connect with young people and to highlight the incredible natural resources our state has that's just waiting to be explored," said Marion Baker, Georgia State-Fish Art Coordinator.
"For many students, the Fish Art Contest is their first experience learning about fish and fishing. Art transcends conservation. From the days of pictographs, Ding Darling and the duck stamp program, art has an unparalleled power to connect and teach. I'm so thankful for the sponsors who support the program, our state and international partners, dedicated teachers and parents who encourage young people to learn and experience our natural resources," said Pat Conzemius, President and CEO of Wildlife Forever.
The top Georgia winners are:
GRADES 10-12
First Place: Nicole Li, Bluegill
Second Place: Sophia Ostervoid, Steelhead Trout
Third Place: Jeongin Lee, American Shad
Go Fish Georgia Award: Caroline Henderson, Largemouth Bass
GRADES 7-9
First Place: Woods DeLoach, Red Drum
Second Place: Natalie Kassa, American Shad
Third Place: Zihan Zhao, Brook Trout
Go Fish Georgia Award:  Aaron Shi, Channel Catfish
GRADES 4-6
First Place: Aleena Huang, Cutthroat Trout
Second Place: Kelly Zhong, Steelhead Trout
Third Place: Elly Wasden, Largemouth Bass
Go Fish Georgia Award: Dash Cary, Walleye
GRADES K-3
First Place: Emily Chen, Largemouth Bass
Second Place: Melissa Qiu, Cutthroat Trout
Third Place: James Chang, Bluegill
Go Fish Georgia Award: Richard Lu, Largemouth Bass
1st place winners:

2nd place winners:

3rd place winners:

In mid-May, a distinguished panel of judges helped to select this year's state and national winners. Along with state honors, students also competed for several unique award categories that included the Guy Harvey Award and the International Fish Migration Award. Artists also competed through written essay for the Fish Make You Smarter Award.
Here are some Georgia artists recognized with a national award:
•    Kelly Zhong, 4th Grade: selected as the First Place Fish Migration Award Winner (5-12 age group).
•    Emily Chen, 2nd Grade: placed 2nd in the K-3rd Grade category of the National State-Fish Art Contest.
•    Alexandra Huynh, 5th Grade: Placed 3rd in the National "Fish Make You Smarter Essay Contest."
•    Caroline Henderson, 10th Grade: Placed 3rd in the National "Fish Make You Smarter Essay Contest."
Due to COVID-19, contest deadlines were extended through April 30th, and students were allowed to submit digital entries of their art. A new online platform was also utilized for judges to participate from around the world.
All of the 2020 National and International winners can be found at www.wildlifeforever.org/home/state-fish-art/winners/.