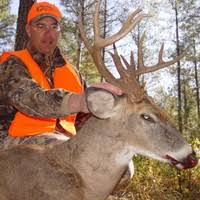 Will is a longtime employee of the division, most recently serving as assistant chief of the fisheries management section, and having served previously as assistant chief of game management.
As chief, Will's responsibilities will include coordinating and managing the statewide wildlife program, development of game management budget and supervision of Georgia's wildlife management areas. Additionally, he will oversee the drafting of hunting regulations statewide.
"I look forward to Ted's contributions as he assumes this new role as chief of game management," said Wildlife Resources Division Director, Rusty Garrison in a press release. "His 19 years of service within the agency across both game management and fisheries management uniquely qualify him for this role and make him an invaluable asset to the division. I am confident in his ability to accomplish great things as we move forward."
Will holds a master's in wildlife ecology from Mississippi State University, though he is a Georgia Bulldog at heart, having earned his bachelor's degree in forest resources from the University of Georgia. Will is an avid hunter and angler, and currently resides in Bogart with his wife and two children.
Don't forget: All hunters born on or after Jan. 1, 1961 must successfully complete a hunter education course before purchasing a hunting license. Hunter education is not required if purchasing an Apprentice License or short-term license, if you are hunting on your own land, or if you are hunting pen raised game birds on a licensed shooting preserve.
For more information on Georgia hunting seasons and regulations, visit http://georgiawildlife.com/hunting/regulations or contact a local Wildlife Resources Division office (http://georgiawildlife.com/about/contact).
This is a press release from the Georgia Department of Natural Resources.