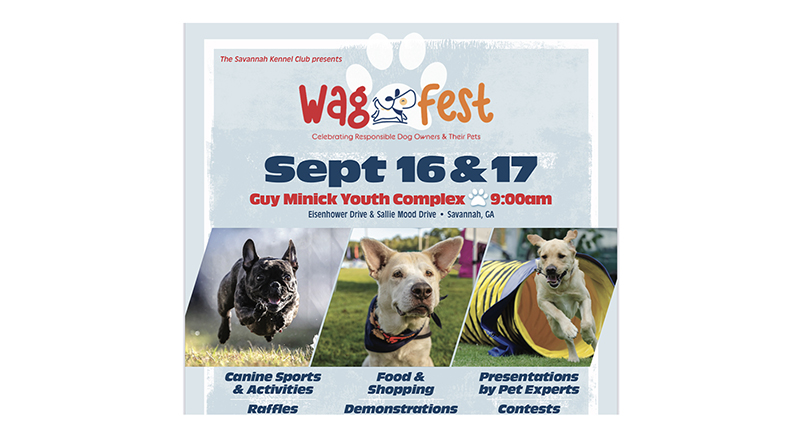 The Savannah Kennel Club is hosting its 3rd Annual WAGFEST September 16 and 17 at Guy Minick Park, 6726 Sallie Mood Drive Savannah. The free event celebrates responsible dog ownership and the bond between dogs and their people.

From Savannah Kennel Club:
WAGFEST is a weekend-long festival of fun, canine sports, and demonstrations, featuring FastCAT (100-yard dash for your pup), CAT, agility fun, conformation fun match, rally fun, and more including:
● Food
● Shopping
● Games & Contests
● CGC & Trick Dog Testing
● Pet Expert Demonstrations
● Animal Behaviorists
There is something for everyone and all ages! Bring your best friends and the whole family – dogs and humans alike – for a weekend of fun! Bring a lawn chair or a blanket and enjoy the festivities and the amenities of Guy Minick Park for a beautiful weekend ahead.
Proceeds from the event will go toward the purchase of an AKC ReUnite Disaster Relief Trailer for the Low Country Coastal Community, Adopt a cop program for local police departments, enrichment equipment for Chatham County Dog Parks, and community education programs.
WAGFEST kicks off with one of Savannah's most pawsitively unique races, The Fast and The Furriest 5K9, a fido-friendly 5K, and a one-mile fun walk starting at Guy Minick Park and wraps around the picturesque Lake Mayer. All dog participants and their handlers receive a finisher's medal, pup bandana, and shirt. Awards are given to the top three finishers in each division and include post-race refreshments and massages for pups and their humans. If you don't have a pup, donate your time to one in need. Savannah Kennel Club partners with local rescues and shelters to provide runners/walkers with a furry running buddy. The Fast and Furriest 5 K-9 Race is fun for the entire family for children 9 years of age or older accompanied by a parent or guardian and in control of their furry running buddy.
Sign up today at https://runsignup.com/Race/GA/Savannah/FastAndFurriest5K9.
The purpose of the race is to promote the importance of heart-healthy exercise for humans and dogs. The American Kennel Club and the American Heart Association have created AKC's Fit Dog to advocate fitness for both dogs and people. Walking a minimum of 150 minutes per week is recommended by the American Heart Association. Walking is considered a safe activity that improves muscular strength, circulation, memory, weight loss, increases energy, helps with sleep, and reduces stress. Participation in the AKC FIT DOG program will bring health benefits to both you and your dog.
Savannah Kennel Club, along with over 5,000 other affiliated dog clubs across the country will hold this community event to help educate the public about the responsibilities of dog ownership and help current owners enhance their relationships with their pets. According to a recent AKC survey, "99% of dog owners have a dog because of the love and companionship they provide. Owning a dog has endless pleasures and rewards, but we all need a friendly reminder about the obligations we have to our pets in return, and the unique opportunities to enjoy sports and better health through a positive relationship with our canine companions.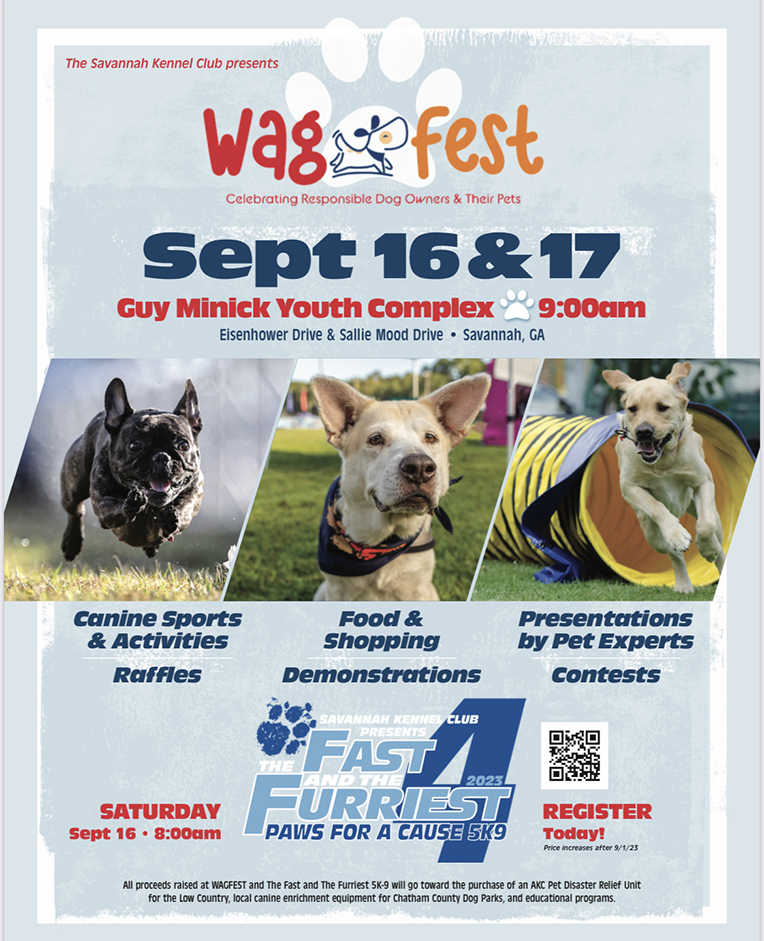 See more information
HERE.