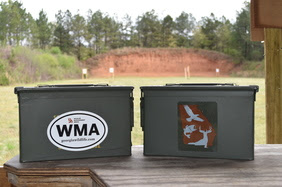 The Spring-like weather has folks wanting to get outside and do something. If you decide to head out to any of Georgia's eight staffed public shooting ranges on any weekday during the month of April, the Georgia Department of Natural Resources' Wildlife Resources Division is giving a free ammo can, while supplies last!
"We are always looking to help excite people about shooting sports, so this is just a fun way to reward shooters for visiting our locations and raising awareness about where people can go shoot," said Mark Swords, a Hunting and Shooting Education Specialist with the Wildlife Resources Division.
Staffed Public Shooting Ranges: Georgia

| Range Name | WMA | County |
| --- | --- | --- |
| Cedar Creek | Cedar Creek | Putnam |
| Clybel | Clybel | Jasper |
| Dixon Memorial | Dixon Memorial | Ware |
| Mike Commander | Chickasawhatchee | Dougherty |
| Ocmulgee | Ocmulgee | Pulaski |
| Richmond Hill | Richmond Hill | Bryan |
| West Point | West Point | Troup |
| Wilson Shoals | Wilson Shoals | Banks |
In addition to these 8 staffed shooting ranges, Georgia has additional public shooting ranges, archery ranges (static targets, 3-D targets), an air rifle range and a shotgun range.
For more about Georgia's public ranges, visit https://georgiawildlife.com/AllRanges.