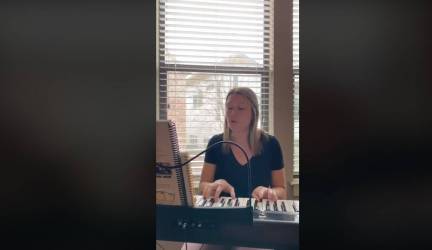 A middle school choir director is using the down time from the COVID-19-induced quarantine to entertain the internet with a fantastic parody.
Texas resident Hannah Brewton posted the video on Facebook Friday, complete with her own rendition of Adele's infamous ballad "Hello." In her piano solo, Brewton belts out lyrics about the hardships of quarantine – toilet paper shortages, canceled social gatherings, and the importance of hand washing.
"I just wanted to check in on you during COVID-19.
Are you so-cial distancing?
They say staying home will save you,
but I'm just going cra-zy.
Hello"
It's got us laughing…even when it feels like there is not too much to laugh about. Hopefully it does the same for you. Thanks Hannah!
And on the 8th day of quarantine, I wrote this stupid parody.

Posted by Hannah Brewton on Friday, March 20, 2020