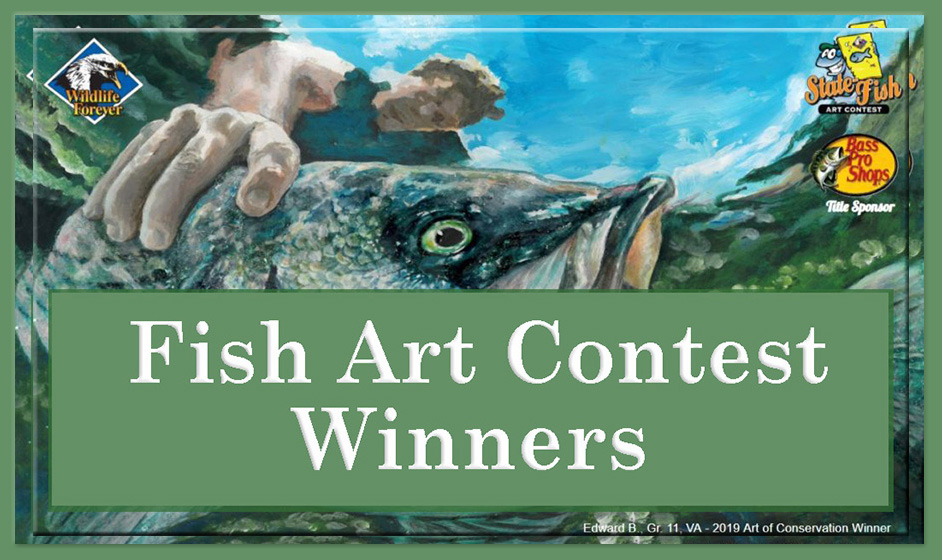 The Georgia Department of Natural Resources,  Wildlife Forever, and Title Sponsor Bass Pro Shops are proud to announce the winners of the 2021 Georgia Fish Art Contest.
The Wildlife Forever Art of Conservation® Fish Art Contest™ introduces youth to the world of fish, fishing and aquatic conservation by blending art, science and writing.
"The Georgia Fish Art Contest is an incredible way to inspire the next generation of conservation stewards. This program connects young people to the outdoors and highlights the incredible natural resources our state has to offer," said Marion Baker, Georgia Fish Art Coordinator.
"Art helps to build the foundation for youth development. Through the Fish Art Program, young people learn the value of our natural resources and their role in protecting it. The artwork this year was incredible, showcasing world-class talent and future conservation leaders," said Pat Conzemius, President and CEO of Wildlife Forever.
The top Georgia winners are:
Grades 10–12
First Place: Shirley Huang (Duluth, GA), Dorado
Second Place: Emily Rose Ross (Marietta, GA), Red Drum
Third Place: Katie Gilk (Marietta, GA), Humuhumunukunukuapua'a
Grades 7–9
First Place: Grace Manning (Duluth, GA), Dorado
Second Place: Elizabeth Tian (Alpharetta, GA), Longear Sunfish
Third Place: Jennifer He (Marietta, GA), West Virginia Golden Brook Trout
Grades 4–6
First Place: Alexandra Huynh (Atlanta, GA), Arctic Char
Second Place: Linqi Ding (Duluth, GA), Longear Sunfish
Third Place: Amber Huang (Duluth, GA), Brown Trout
Grades K–3
First Place: David Jeong (Suwanee, GA), Westslope Cutthroat Trout
Second Place: Ava Erninty (Acworth, GA), Arctic Grayling
Third Place: Nina Lee (Duluth, GA), Rainbow Trout
Go Fish Georgia Award
Kindergarten–Third Grade: Eileen Chou (Lilburn, GA), Channel Catfish
Fourth–Sixth Grade: Daniel Chen (Snellville, GA), Brook Trout
Seventh–Ninth Grade: Aara Ahn (Marietta, GA), Walleye
Tenth–Twelfth Grade: Aurelie Zerry (Marietta, GA), Atlantic Sailfish
In April, a distinguished panel of judges helped to select the state, national, and international winners. Along with state honors, students also competed for several unique award categories including the Guy Harvey Award, Migratory Fish Award, Invader Crusader Award, and Western Native Trout Award. Participants also submitted essays eligible for state awards and the Fish Habitat Writing Award.
"Wonders of Wildlife National Museum and Aquarium are proud to support the Art of Conservation Fish Art Program. Together with Wildlife Forever, we're building the foundation for conservation," said Misty Mitchell, Director of Conservation Programs at the Johnny Morris Foundation.
All of the 2021 National and International winners can be found at www.FishArt.org. Digital images in low and high resolution are available upon request.
Artwork by Georgia Artists on Display: Artwork from Georgia winners will be on display at the Go Fish Education Center (https://gofisheducationcenter.com/) in Perry, Georgia for one year.
About the Go Fish Georgia Award: This award was created to celebrate fish species that can be found in the state of Georgia which are sought by anglers. Only artwork depicting one or more of the qualifying fish species can compete for this award. The winning artwork is chosen based on how well the judges feel it represents the fish and/or fishing in Georgia.
About the Fish Art Contest: The award-winning Wildlife Forever Fish Art™ Contest, with support from Title Sponsor Bass Pro Shops, the USDA Forest Service and Guy Harvey Ocean Foundation, brings children, art and aquatic conservation together! The annual contest reaches thousands of youth each year. New distance learning resources allow students to participate from home or classroom and complement a wide array of educational programming. To enter, young artists create an original illustration of any fish from the Official Fish list and written words detailing its habitat, and efforts to conserve it. Entries are categorized in four grade levels: K–3, 4–6, 7–9, and 10–12. Educators nationwide utilize Fish On!, the full-color Fish Art Lesson Plan, integrating the disciplines of science and art. Entries are due postmarked or emailed by March 31st each year.
---
Source: GA DNR