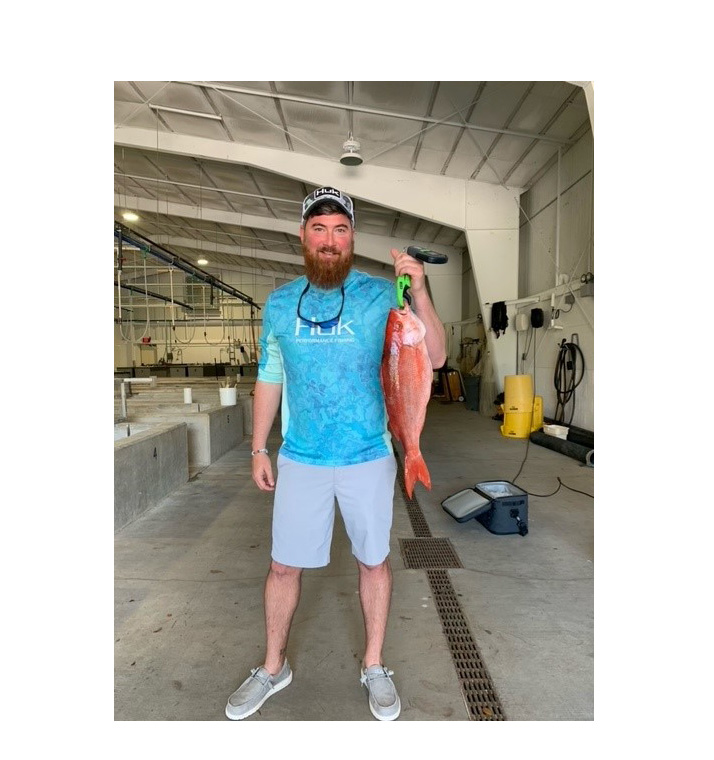 The Georgia Department of Natural Resources (DNR) today announced a new men's state saltwater gamefish record for vermilion snapper (Rhomboplites aurorubens), also known as beeliners.

Mark Brandon Neville of Richmond Hill landed the 5-pound, 11.68-ounce vermilion snapper on Monday, April 11, 2022, at Artificial Reef DW, about 70 nautical miles east of Sapelo Island. Neville's catch beats the previous 3-pound, 11-ounce record of Scott Funderburk of Guyton from 2018.
Neville, 34, caught the fish while jigging in about 160 feet of water. His catch was weighed at DNR's Richmond Hill Hatchery using a certified scale.
Vermilion snapper are found in the Atlantic Ocean from Cape Hatteras, N.C., to southeastern Brazil, including the Gulf of Mexico. They can live up to 15 years and grow to be as long as 2 feet and weigh 7 pounds. In 2020, recreational anglers landed approximately 2.5 million pounds of vermilion snapper, according to the NOAA Fisheries
Neville will receive a certificate acknowledging his record catch, and the record will be added to the list published at CoastalGaDNR.org/SaltwaterRecords. It will also be included in the 2023 Georgia Sport Fishing Regulations Guide.
For the current list of men's and women's saltwater fishing records, as well as information on how to submit a catch to the Georgia Saltwater Gamefish Record, please visit CoastalGaDNR.org/RecreationalFishing. Applications should include color photographs. There are minimum weights for several species.
Anglers wishing to enter a fish for a new state record must have the fish weighed on a Georgia Department of Agriculture certified scale in the presence of at least one witness. Certified scales can be found at local seafood markets, grocery stores and agricultural supply stores.  During business hours, anglers can have their catch weighed at the Coastal Regional Headquarters, One Conservation Way in Brunswick.