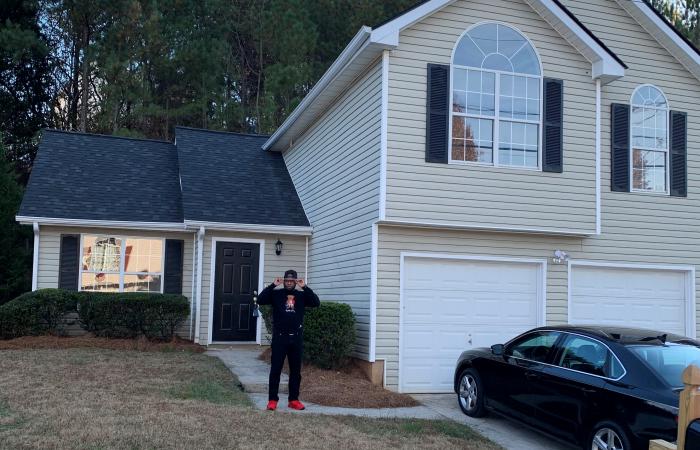 A Georgia man accomplished his dream of purchasing a home through an assistance program offered through the Georgia Department of Community Affairs.

Decatur resident DeCosmon Shorter's lease was coming to an end, prompting him to explore his options for buying a house in the area. Driven by high rent prices, sometimes topping $1,200 for a one-bedroom, one-bathroom apartment, Shorter knew home ownership was the logical option for him, the Georgia Department of Community Affairs said in a blog on their own website.
The state agency is using their 'Keys to Success' series to showcase residents across the state and highlight their accomplishments of home ownership. The Georgia Dream program in particular provides down payment assistance for first-time home buyers.
Shorter learned about Georgia Dream through his Realtor and lender and said the experience was great: "I was able to actually learn a lot about what you all have to offer, and the home-buying process."
He received $15,000 in assistance for his down payment and closing costs and said he wouldn't have been able to buy a house without it.
What advice does he offer for others interested in applying for Georgia Dream?
"Take the opportunity, if granted, for assistance," Shorter said. "Be aware of what you are doing, and be aware of what the program can do for you."
Down Payment Loan Options
$5,000: STANDARD — All eligible homebuyers may qualify!
$7,500: Protectors, Educators & Nurses (PEN) — Are you a public protector, educator, healthcare provider — or work for these industries — or active military?
$7,500: CHOICE — Is a member of your family living with a disability?
$15,000: Hardest Hit Fund Down Payment Assistance — provides down payment and closing cost assistance to eligible borrowers to purchase an existing home in seven of Georgia's hardest hit counties: Fulton, DeKalb, Clayton, Muscogee, Douglas, Chatham and Bibb.
The Hardest Hit Fund is a temporary program. Funds are available on a first-come, first-served basis.
Please note: The Hardest Hit Fund Down Payment Assistance program is ending August 31, 2020. The Georgia Dream Standard; Protectors, Educators and Nurses (PEN); and CHOICE Loans will still be available.
Georgia Dream loans* are available to:
First-Time Home Buyers, OR
Homebuyers who have not owned a home** in the past three years, OR
Those who purchase a home in certain areas
Who Also:
Have a household income up to the maximum
Have liquid assets of no more than $20,000 or 20% of the sales price (whichever is greater)
Meet mortgage loan credit requirements
*Loans are 30-year fixed interest rate mortgages. Participating lenders give credit approval for FHA, USDA-RD, VA or conventional eligible mortgage loans.
**Homebuyers who have not had interest or ownership in a primary residence in the last three years.
Maximum Household Income & Home Sales Price
If you purchase in one of these Georgia counties
Barrow, Bartow, Carroll, Cherokee, Clayton, Cobb, Coweta, Dawson, DeKalb, Douglas, Fayette, Forsyth, Fulton, Gwinnett, Heard, Henry, Jasper, Newton, Paulding, Pickens, Pike, Rockdale, Spalding or Walton
The purchase price cannot exceed $250,000
Household income cannot exceed
1 or 2 persons:
$80,000
3 or more persons:
$92,000
Any county not listed above the purchase price cannot exceed $200,000
Household income cannot exceed
1 or 2 persons:
$69,000
3 or more persons:
$79,000