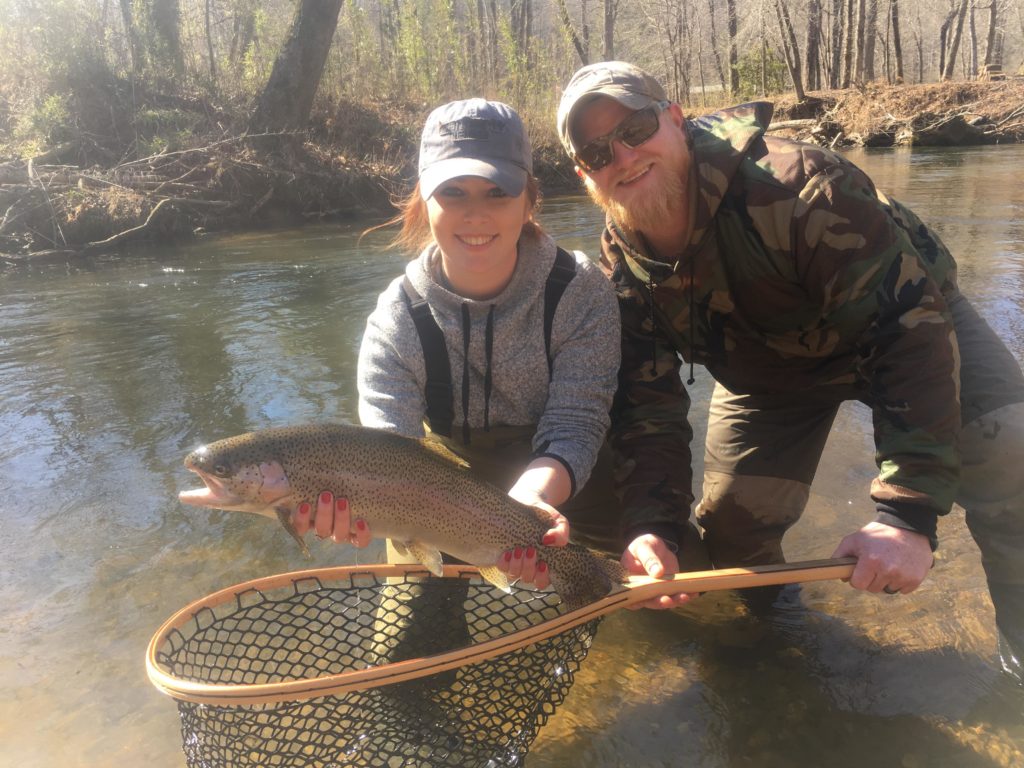 The Georgia Department of Natural Resources' Wildlife Resources Division and the U.S. Fish and Wildlife Service have recently begun the 2018 trout stocking effort of one million fish and experts say trout fishing will be great this year! In the past the typical size for a stocked trout was 9 inches, however, due to abundant rainfall, optimal growing conditions and an increase in funding due to license fee increases last year the stocked trout size has been increased to 10 inches.
"Some slight alterations to the timing of trout stocking are necessary to meet our goal of stocking 10-inch trout. Trout stocking will begin in early March and continue well into the fall." Says John Lee Thomson, Georgia Trout Stocking Coordinator. For more information about the hatcheries click here.
Some of the more popular stocked waterbodies that have received trout during this early stocking effort include Lake Winfield Scott in Union County, Little Amicalola Creek at Amicalola State Park, Holly Creek near the Cohutta wilderness, and Johns Creek in Floyd County.
Georgia has approximately 4,000 miles of trout streams but they are relatively unproductive when compared to trout waters in other areas of the country. This is due, in part, to the fact that much of the soil found in North Georgia is calcium deficient. It is because of this deficiency and the demand of about 100,000 trout anglers that the DNR and the U.S Fish and Wildlife Service stock trout in the numbers they do. The number of trout stocked and the stocking frequency depends on a stream's fishing pressure, accessibility, and water conditions. Generally, streams located on public lands are stocked more often and with greater numbers of trout. Trout fishing opportunities vary, some streams are "special regulation" and offer trophy or catch-and-release fishing, others are heavily-stocked high-use streams which are better for beginners, wilderness streams, and small impoundments. To keep up with the current stockings click here and sign up for the weekly email.
The daily limit for trout in Georgia is 8 on general regulation trout waters. Angler must possess both a fishing license and a trout stamp. For additional information on the regulations for trout fishing in Georgia visit the ERegulations website here.
Photos courtesy of Creighton Greene