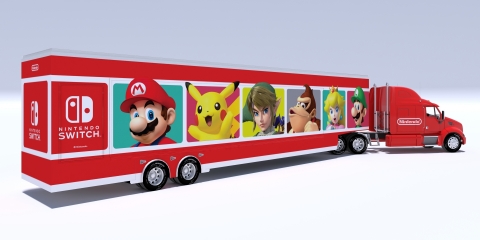 Nintendo Switch Heads Across the U.S. for an Interactive Road Trip for Kids and Families
Nintendo is hitting the road and the Nintendo Switch games will not only come along, they'll come to life!

The Nintendo Switch Road Trip tour kicks off in June and will travel the nation through October, eventually hitting the Georgia National Fair in Perry.
Tour visitors will have the opportunity to explore interactive spaces featuring playable demos of some of the hottest Nintendo Switch games of the summer like Super Mario Maker 2 and Super Smash Bros. Ultimate, among others.
"The Nintendo Switch Road Trip highlights the portability of Nintendo Switch as we travel the country to bring our games directly to fans," Nick Chavez, Nintendo of America's Senior Vice President of Sales and Marketing, said in a press release. "Whether you're visiting a state fair or just out for a day with the family, our event provides an opportunity to relax, play some games and have some fun."
The space offers:
a warp pipe-filled stage to play the Super Mario Maker 2 game
a neon-colored paradise for the Splatoon 2 game
a large-screen TV and bucket race car seats for the high-octane Mario Kart 8 Deluxe game
photo opportunities
Nintendo-themed challenges
Target discount coupons that will be handed out at all stops (while supplies last).
The Nintendo Switch Road Trip is scheduled to make the following stops:
Location
Dates
Navy Pier

Chicago, Illinois

June 26-30
Summerfest®

Milwaukee, Wisconsin

July 3-7
California State Fair

Sacramento, California

July 12-14
Bite of Seattle

Seattle, Washington

July 19-21
Musikfest

Bethlehem, Pennsylvania

Aug. 2-4
Iowa State Fair

Des Moines, Iowa

Aug. 8-11
Kentucky State Fair

Louisville, Kentucky

Aug. 15-19
The Great New York State Fair

Syracuse, New York

Aug. 22-25
Minnesota State Fair

Saint Paul, Minnesota

Aug. 30-Sept. 2
New Mexico State Fair

Albuquerque, New Mexico

Sept. 6-8
LA County Fair

Pomona, California

Sept. 11-15
The Big E

West Springfield, Massachusetts

Sept. 26-29
Georgia National Fair

Perry, Georgia

Oct. 3-6
The Nintendo Switch games playable on the Nintendo Switch Road Trip are:
Super Mario Maker 2
Super Smash Bros. Ultimate
Mario Kart 8 Deluxe
Splatoon 2