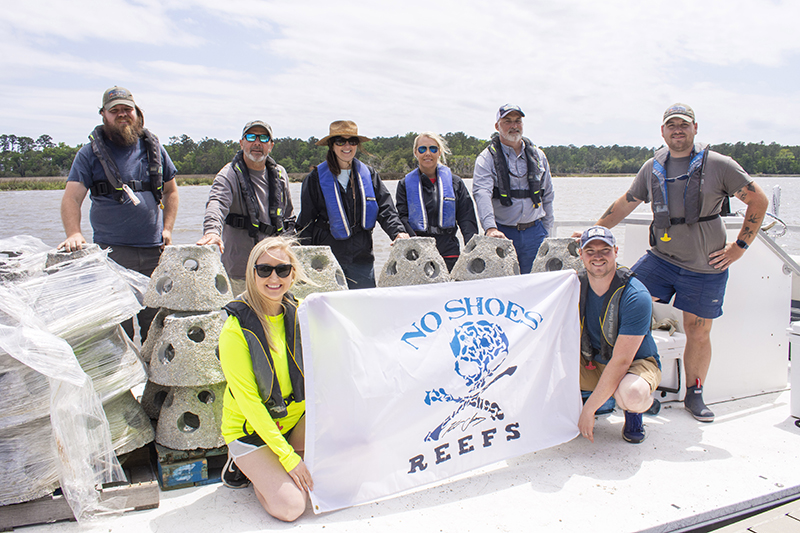 The Coastal Resources Division of the Georgia Department of Natural Resources recently completed improvements to several inshore artificial reefs along the state's 105-mile coast with nearly 1 million pounds of materials.

CRD, in partnership with several nonprofit and research organizations, added approximately 910,000 pounds of materials to artificial reefs in Chatham, Bryan, and Camden counties since the spring with the aim of creating new fishing opportunities for anglers and foundations for future oyster beds, explained Cameron Brinton, a marine biologist with CRD's Habitat Enhancement and Restoration Unit.
"We've made a recent push to enhance three reefs in two distinct parts of the coast," Brinton said. "Earlier this year, we partnered with country music star Kenny Chesney's No Shoes Reefs foundation to place 400 concrete reef balls at Ogeechee River Inshore Artificial Reef, which is just outside Fort McAlister State Park on the border of Chatham and Bryan counties. We haven't done a deployment at this reef since 2001 when CRD put concrete culverts on the banks of the river there. Thanks to the donation of all 400 reef balls from No Shoes Reefs, we were able to add more habitat to the area and improve fishing opportunities."
The deployment was also made possible by volunteers who donated their time to join CRD in placing the reefs on the riverbank.
"We had several volunteers from the Coastal Conservation Association Georgia, the Reef Ball Foundation, and No Shoes Reefs all get their hands dirty helping us load these reef balls onto a boat, get them to the reef site, and place them on the riverbed," Brinton said. "We were able to place all 400 reef balls—which weigh about 50 pounds each—in only two days, which is fantastic. Without the help of those generous volunteers, it would have taken us a lot longer."
Not too far from the Ogeechee River reef site, CRD also added to the Romerly Creek Inshore Artificial Reef in Chatham County's Wassaw Sound. For this deployment, CRD partnered with researchers from the University of Georgia Marine Extension and Georgia Sea Grant (MAREX).
"This was kind of a unique reef deployment for CRD," Brinton said. "CRD funded MAREX with a Coastal Incentive Grant to test the effectiveness of deploying oyster shells with spat already settled on it as an option for restoring oyster populations more effectively outside their spawning season. Spat are essentially baby oysters that have set onto other oyster shells, and the idea here is to increase the likelihood that healthy oyster beds will take root with new growth."
Meanwhile, anglers at the south end of Georgia's coast can benefit from the recent deployment of 400 tons of concrete pilings as an enhancement to the Stafford Island Inshore Artificial Reef in Camden County.
The new reef addition was conducted by Salonen Marine, a contractor for CRD, and funded through the U.S. Fish and Wildlife Service's Sport Fish Restoration program.
"The Sport Fish Restoration program is an important funding mechanism for conservation efforts, not just in Georgia, but across the country," Brinton said. "These are federal dollars that come to Georgia partially based on the number of fishing licenses sold here. Funds are raised through a federal excise tax on certain fishing equipment and a portion of small engine and boat fuel tax and passed to Georgia by the U.S. Fish and Wildlife Service."
The new pilings at the Stafford Island reef were deployed in an interlacing pattern that will provide excellent fish habitat and a foundation for oysters to settle on.
More Information about Georgia's Inshore Artificial Reefs can be found at CoastalGaDNR.org/HERU.