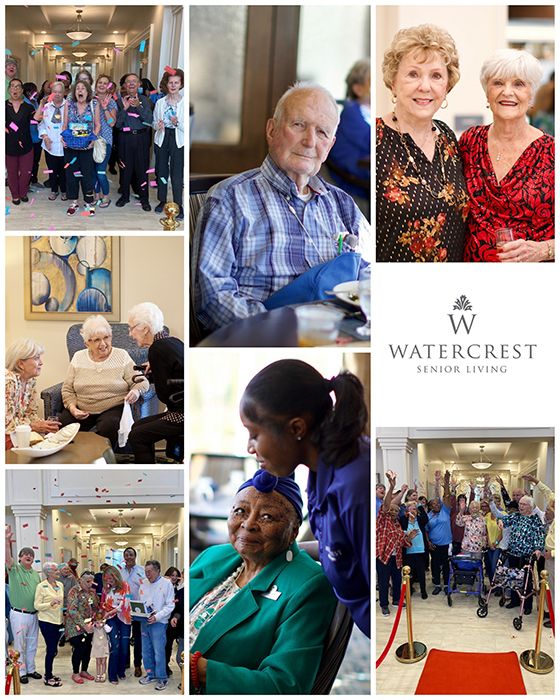 On any given day, you can find the residents and associates of Watercrest Macon Assisted Living and Memory Care celebrating momentous occasions, big and small. Honoring special occasions instills joy, purpose, and personal connection amongst residents, associates, and family members and is an essential element of multi-sensory programming at Watercrest Senior Living.

In the nearly two years since the grand opening of Watercrest Macon, the community has offered an abundance of activities from elegant art shows to lively tailgate parties, from traditional Oktoberfest festivities to hayrides at the local pumpkin patch.  Watercrest Senior Living takes a unique approach to healthy aging focusing on individuals achieving personal wholeness through participation in programs aligned with the seven facets of wholeness.  These facets provide the framework for their Live Exhilarated™ program which focuses on celebrating the residents' story, encouraging their pursuit of new passions, optimizing their experience, and offering variety and choice to all residents.
Watercrest Macon is especially recognized for their exuberant greetings in welcoming new residents to their community.  With a red-carpet rollout, confetti, and crowds of cheering residents and staff, each new resident enters their Watercrest home for the first time to a sea of smiling faces and open arms.
Watercrest Macon is an award-winning senior living community offering 76 assisted living and 22 memory care residences with resort-style amenities and exceptional care. The community was recently named Gold medal winner in the Best of Middle Georgia awards in the categories of Best Senior Living Community, Best Assisted Living Community, and Best Retirement Community.
The comfortably, classy design of Watercrest Macon includes a stunning promenade, fireplace, multiple dining venues, Southern style outdoor living spaces, Art Studio and Gallery, and the charming atmosphere of Bogey's Cigar and Scotch lounge. The community's Southern style exterior gathering spaces, outdoor putting green, and gardening stations offer opportunities for social engagement and resident activity amongst the lushly landscaped grounds and illuminated walking paths. Additionally, residents enjoy the coveted Spa W offering world-class wellness amenities including a resort-style pool, light and salt therapy, and state-of-the-art fitness and physical therapy center.
Watercrest Macon is ideally located at 111 Providence Boulevard in Macon, Georgia near high-end residential, plentiful retail and dining establishments, as well as diverse cultural and entertainment venues. For information, contact the community at 478-400-7043.
---
About Watercrest Senior Living Group
Watercrest Senior Living Group was founded to honor our mothers and fathers, aspiring to become a beacon for quality in senior living by surpassing standards of care, service and associate training. Watercrest senior living communities are recognized for their luxury aesthetic, exceptional amenities, world-class care, and innovative memory care programming offering unparalleled service to seniors living with Alzheimer's and dementia. A six-time certified Great Place to Work, Watercrest specializes in the development and operations of assisted living and memory care communities and the growth of servant leaders.  For information, visit www.watercrestseniorliving.com.
---
SOURCE Watercrest Senior Living Group