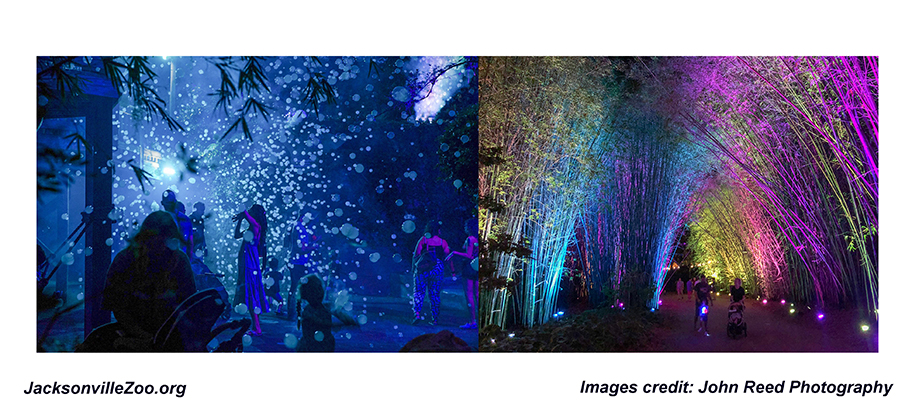 Constellations theme, Starry Nights, features meteor showers, twinkling stars
representing animals and planetary movements and interactive game projections.
Blacklight theme, Night Vision, is an amazing multi-faceted adventure filled with
blacklight paint, hidden UV reactive elements and blacklight drawing activities.
Interactive laser show, Glow Party, in Play Park to captivate those of all ages.
Entertainment with a DJ and Live band, dancing and photo opportunities.
Night-time Dinosauria experience included.
Visit Jacksonville Zoo and Gardens' popular event, IllumiNights Summer Spectacle, before it ends. IllumiNights runs every Friday night through August 11, 6:00 pm – 10:00 pm.

Boasting ten themed areas, the Zoo transforms from sleepy wildlife to a fantasy landscape through the use of illumination lighting and creative imagery. Guests can stroll through the Zoo from one extraordinary experience to another. Animated motifs of moving light, dazzling and seemingly vast arrays of vibrant lights and hues, gardens of orbs and a mirrorlined tunnel topped with laser lights for a unique perceptual experience are just a few of the distinctly themed areas. Around every corner are opportunities to encounter aerialists performing skillful acrobatics, stilt walkers, fire jugglers, face-painters, and more. Interactive activities for both kids and adults include painting, glow games, fobble chase, and dancing to live entertainment.
Drinks, adult beverages, and food are available for purchase.
See more information and buy Tickets at jacksonvillezoo.org.
Event will be held rain or shine – weather and safety permitting.
No visit to Jacksonville Zoo and Gardens is complete without spending time with amazing animals. Families and friends alike can snap photos and create lasting memories before some animals go to sleep at dusk. Other favorites such as Jaguars, Komodo dragon and Penguins will be on exhibit throughout the event.
---
About Jacksonville Zoo and Gardens
For over 100 years, the Jacksonville Zoo and Gardens has aimed to inspire the discovery and
appreciation of wildlife through innovative experiences in a caring environment. Starting in 1914
with an animal collection of one red deer fawn, the Zoo now has more than 2,000 rare and exotic
animals and 1,000 species of plants, boasting the largest botanical garden in Northeast Florida.
The Jacksonville Zoo and Gardens is a nonprofit organization and a portion of every ticket sold
goes to the over 45 conservation initiatives Jacksonville Zoo and Gardens supports around the
world, and here in NE Florida. JZG is proud to be an accredited member of the Association of Zoos
and Aquariums. For more information, visit jacksonvillezoo.org.