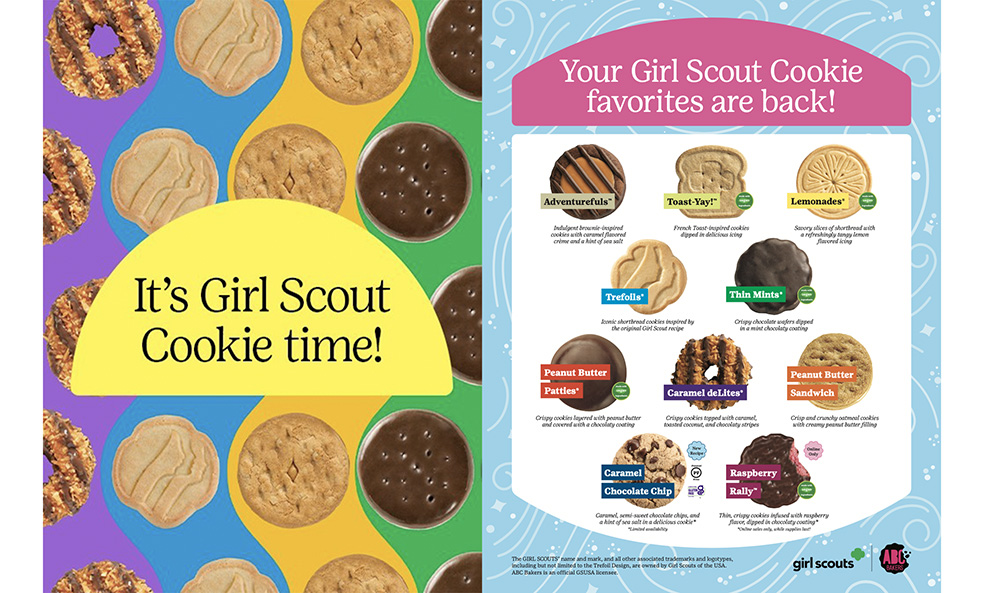 Girl Scouts kicked off the 2023 Girl Scout Cookie season this month as girls and their troops rally their communities to support the world's largest entrepreneurial program for girls. New for the 2023 cookie season, the highly anticipated Raspberry Rally cookie joins the iconic lineup alongside classic family favorites like Thin Mints, Samoas/Caramel deLites, Peanut Butter Patties/Tagalongs, and more.

"What makes Girl Scout Cookies even sweeter? Behind every box is a girl learning important skills to power her leadership journey and unlock a world of opportunities," said Wendy Lou, GSUSA's chief revenue officer. "Financial literacy is not only a critical skill required for entrepreneurship, but an essential life skill."
The Girl Scout Cookie Program provides invaluable entrepreneurial skills for girls across the country, and funds experiences such as service projects, troop travel, and summer camp. In recent seasons, our cookie entrepreneurs have handled a variety of challenges that the COVID-19 pandemic has thrown their way, including restrictions on in-person sales and inventory shortages. Recently, Little Brownie Bakers, one of Girl Scouts' bakers, reported projected inventory shortages for the 2023 season. As a result, the shortage will impact select councils' timing of their local cookie sales.
This season, Girl Scouts of the USA calls on communities around the nation to rally their support for their favorite cookies—and for the girls behind each box. Please support your local Girl Scouts by ordering from a girl you know now or by visiting www.girlscoutcookies.org to find a booth near you. Be sure to visit www.girlscoutcookies.org again on February 27 to order or re-order cookies to be shipped directly to your home, including the new Raspberry Rally, which is available online for shipment only.
As always, the true purpose behind Girl Scout Cookies remains the same. All proceeds stay with local councils and troops to power amazing experiences year-round for Girl Scouts.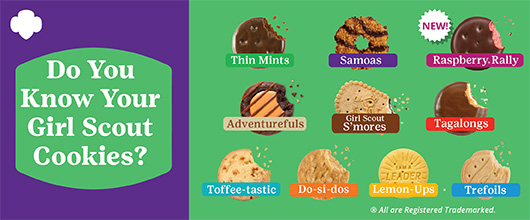 How to Purchase Girl Scout Cookies This Year
If you know a registered Girl Scout, reach out to her to find out how she's selling cookies. Please check with your local council, a Girl Scout you know, or use our cookie finder at www.girlscoutcookies.org to find a booth and purchase cookies.
You can also text COOKIES to 59618 to stay informed about how to purchase Girl Scout Cookies and other exciting Girl Scout news. Learn more about the Terms and Conditions and the SMS Privacy Policy.
Beginning February 27, cookie lovers will be able to purchase cookies to be shipped directly to their homes by entering their zip code into the Girl Scout Cookie Finder. This link can also be used to find a local booth, to purchase cookies, and/or to donate cookies for local community causes.
---
To add to the anticipation of the 2023 Girl Scout Cookie season, Girl Scouts is excited to welcome Planet Oat Oatmilk as a national sponsor of the Girl Scout Cookie Program.
"Planet Oat is proud to serve as a national sponsor of the Girl Scout Cookie Program," said Chris Ross, senior vice president of marketing and R&D at HP Hood LLC. "There's no treat as delicious as milk with Girl Scout Cookies, and we're excited to invite cookie fans nationwide to discover a new pairing with plant-based, rich, and creamy Planet Oat Oatmilk."
Girl Scouts champion millions of girls as they learn, grow, and thrive through adventure, and Planet Oat Oatmilk is proud to support these efforts as a national sponsor of the Girl Scout Cookie Program.
The Girl Scout Cookie Program is the world's largest entrepreneurial program for girls. Girl Scouts' newly updated Financial Literacy badges offer entrepreneurial playbooks for every age level. From the Cookie Goal Setter badge earned as a Daisy to the Entrepreneur Accelerator badge earned as an Ambassador, the Girl Scout Cookie Program teaches girls financial literacy, planning, budgeting, teamwork, innovative thinking, and confident decision making.
Girl Scout Cookie season is recognized nationally from January through April, but local timing varies; visit www.girlscoutcookies.org to sign up to be notified as soon as your local troop begins selling in your area. Girls in grades K–12 can start their journey to fun, friendship, and new experiences by joining the world's largest entrepreneurial organization at any point in the year. Girls can join and adults can become volunteers at www.girlscouts.org/join.
---
We Are Girl Scouts of the USA 
Girl Scouts bring their dreams to life and work together to build a better world. Through programs from coast to coast, Girl Scouts of all backgrounds and abilities can be unapologetically themselves as they discover their strengths and rise to meet new challenges—whether they want to climb to the top of a tree or the top of their class, lace up their boots for a hike or advocate for climate justice, or make their first best friends. Backed by trusted adult volunteers, mentors, and millions of alums, Girl Scouts lead the way as they find their voices and make changes that affect the issues most important to them. To join us, volunteer, reconnect, or donate, visit girlscouts.org.
---
About Planet Oat Oatmilk
Planet Oat Oatmilk is the top-selling oatmilk in the United States. The Planet Oat family of plant-based products, including Oatmilk, Oatmilk Coffee Creamer, and Non-Dairy Frozen Desserts, is known for delivering rich, creamy, and delicious taste. Planet Oat is owned by HP Hood LLC, one of the country's largest food and beverage companies. Hood's portfolio of national and super-regional brands and franchise products includes Hood, Heluva Good!, Planet Oat, LACTAID, and more. For more information about Planet Oat, please visit www.planetoat.com.