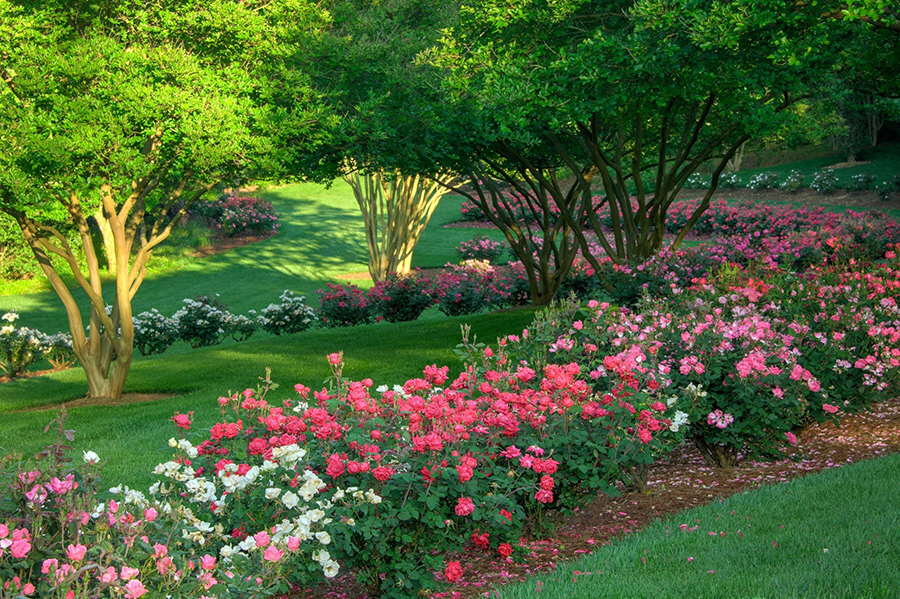 Mother Nature reveals her annual miracle as spring comes into full bloom throughout Gibbs Gardens in Ball Ground, Georgia. An awakening—a breathtaking newness—for plants of all shapes and sizes occurs everywhere in this 376-acre paradise. Tiny buds unfurl to reveal nascent petals reaching out to the sun. Vibrant colors deepen as delicate blossoms burst forth on plants. May has arrived at Gibbs Gardens.
"I never get tired of seeing the transformation," said Jim Gibbs, the owner/designer/developer of Gibbs Gardens. "I've been building, planting and taking care of these gardens since 1983, but I am still awed each year when the dark shadows of winter slide away and the gardens are reborn—alive with dazzling color."
Roses Reign at Gibbs Gardens
It's a simple fact: Gibbs Gardens' Rose Gardens are incomparable. The variety, planting design and pure beauty of Jim Gibbs' roses are unparalleled. Climbing roses, Knock-out roses, Drift Series dwarf roses and Heirloom roses—more than 500 rose bushes—create dramatic swaths of vibrant color from May until the first frost arrives. Ranging in color from shades of red and pink to yellow and white, rose bushes curve across acres of verdant green lawns to create a stunning design element. More roses are planted on four levels near the Manor House where dry stacked Tennessee fieldstone walls buttress the rose terraces. The fragrant, climbing "New Dawn" blush pink roses, adorning the 135-foot-long serpentine wooden arbor—a favorite shot for photographers—are simply magnificent.
Four-Season Japanese Gardens
The Japanese Gardens—beautiful all year long—offer special surprises in May as clumps of bright blue to purple water iris appear along the edge of the ponds. Attracted by their vibrant color, curious butterflies, and birds hover to explore the flowers.
Japanese Maples, revived from their winter's rest, reveal bright red leaves. Satsuki Azaleas add bursts of color in contrast to the dramatic deep green of mature bushes pruned bonsai style. The sounds of waterfalls, leaves rustling in the breeze and birds singing blend together to create May's song.
Thanks to Nature's magic and Jim Gibbs dedicated care, May blooms are everywhere—from the intricate flower baskets along the entrance Flower Bridge to the natural Fern Dell, to hillsides graced by colorful azaleas and majestic rhododendrons to the Monet Waterlily Gardens where hardy waterlilies are in full bloom.
For up-to-date, what's-in bloom information, the Gibbs Gardens website home page includes a convenient bloom update.
Twilight in the Gardens
Twilight in the Gardens' magical, musical evenings are back, beginning Saturday, May 6 from 6 until 9 p.m. Featuring favorite music from the '60s-'80s, delightful meals from the Arbor Café combined with the ambiance of Gibbs Gardens—it's the perfect evening. The genre of music will feature cover bands that play rock and roll music—specifically, favorites from '60s, '70s and '80s. Twilight in the Gardens is scheduled for every Saturday evening in May and June. After a July-through-August break, Twilight in the Gardens will return on September 2 for Saturday evenings in September and the first two Saturday evenings in October.
A World-Class Garden Experience
Honored with the National Garden Clubs' Award of Excellence, Gibbs Gardens has been named one of the "Thirteen Best Botanical Gardens in America," "2020 Best American Botanical Gardens," one of the "World's 10 Best Places to See Daffodils," a top garden in Georgia by the Atlanta Journal Constitution, Explore Georgia and the "100 places to visit in North Georgia before you die." Gibbs Gardens always has something new in bloom. The five feature gardens and 21 seasonal collections gardens offer unique and continuous delights for garden lovers of all interests. To learn more about Gibbs Gardens go to gibbsgardens.com.
---
SOURCE Gibbs Gardens