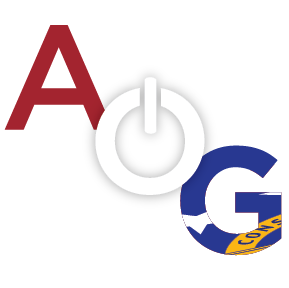 People who come to Pasaquan leave with their own Eddie Martin.

Some take away the image of a bearded eccentric. Some leave with a picture of a chanting musician who dances in the sandpit while the bells on his pants jingle and jangle. Some envision a strangely gifted artist who created a colorful compound in the woods that is like no other. Some remember an entertaining fortuneteller who read oversized cards while two German Shepherds maintained eye contact with the customer. Some talk about the disciple of a exotic religion that only he understood. Some knew a sharecropper's son who would come to the town square in Buena Vista wearing see-through pants.
"Everybody has their own Eddie Martin," Dr. Mike McFalls believes. "Are they true? Are they accurate? That doesn't matter, really. Over the years, people have developed an Eddie Martin that fits only them."
A professor of art at Columbus State University McFalls has become a professional colleague of a man he never met. He is the keeper of the artist and the works he created. Since 2015 he has been the Director of Pasaquan, overseeing restoration of a visionary art environment that was once close to becoming a victim of the blistering Georgia sunshine. It is less than 10 miles from Buena Vista on a Marion County road renamed for Eddie Martin.
On Saturday, with a eclectic ceremony befitting Eddie Owens Martin, Pasaquyan will be reopened to the public. The party is from 10 am. to 6 p.m. and admission is free. Visitors should park in Buena Vista and take a shuttle to the site. Cars will not be allowed on the grounds.
Pasaquan has been closed for nearly two years while experts in restoration from the Wisconsin-based Kohler Foundation helped resurrect the 7-acre site in partnership with CSU and volunteers from the Pasaquan Preservation Society. An army of workers has carefully filled in deepening cracks on the cement walls and brightened colors originally selected by Martin using Sherwin-Williams paint from Clements Hardware Store.
"It has been a journey of discovery," McFalls says.
An acclaimed sculptor, McFalls always appreciated the creative vibes of Pasaquan but he has slowly came to appreciate the man who lived here until he committed suicide in 1987. Eddie Owens Martin died inside the original farmhouse that was the family home of a man who called himself St. EOM.
"Eddie called Pasaquan a journey and I am fascinated by the character and the stories around the man. Being here you get so many unexpected stories," he said. "It is difficult to separate fact from legend, but you come to believe some of the stories and discard the others."
(For more information on the history of Pasaquan and on Saturday's opening ceremony call 706-507-8306, or go to the Columbus State University website. Other views of Pasaquan are located at another CSU site.)
My own Eddie Martin story began the day I came with a friend to have my fortune told. A sign warned us about bad dogs and advised us to stay in the car. Wearing typical garb, Eddie emerged with dogs on either side of him. One at a time he asked us inside.
I sat on one side of a rectangular table. He sat across from me. His dogs never took their eyes off me. I think he charged $25 to tell my fortune. He went into what appeared to be a trance as he stared at the cards. I'd like to say he told me things that came to pass, but he didn't. He didn't tell me that I would one day live at Pasaquan.
A few years after his death, I moved into a house behind the main building beside a patch of bamboo. The outside was vintage Eddie. Inside it was a normal studio apartment. I lived there about two years and always marveled that when I drove in late after a drive from Columbus the grounds always looked different than they did the night before.
Some Sundays I opened my door and discovered the Georgia Southeastern College jazz band tuning up for an afternoon concert. Some nights people just showed up and sat on blankets hoping they would visited by the spirit of St. EOM. Sometimes I would find would-be artists trying to touch up the paint on the walls. On Halloween, I didn't know what to expect for the visitors who showed up then were the strangest of all.
Over the past 20 years I've been there infrequently. When I did, I noticed the decline and the deterioration. Paint was fading and peeling. Cracks were deepening. Volunteers did their best but could never stay very far ahead of the weather. Pasaquan needed help. It needed a creative force but more than anything it needed a big bag of money. And the generous people of the Kohler Foundation delivered both cash and creativity.
This weekend, Kohler publically hands over Pasaquan to Columbus State University. Kohler's work is done. The place looks better than it ever looked in the years of St. EOM. The totems are smiling and the faces of people Eddie Martin knew while he was a street hustler in Greenwich Village are happy again.
Inside the house his voice flows from inside a vintage stereo console. Workers are washing windows that have needed it for 30 years. A CSU student is hanging artwork and stacked in the corner are plats filled with official Pasaquan bottled water.
On Saturday people will be able to sample Cosmic Pickles and listen to an assortment of bands. Jake X. Fussell, son of folklorist Fred and quilter Cathy, grew up around Eddie and Pasaquan and he will be the ringmaster meaning there will be surprises galore.
Col. Bruce Hampton, a legendary performer from Atlanta, is the headliner. He made music with Eddie right here and St. EOM was a regular on makeshift stages near 14th Street in Atlanta when hippies ruled the neighborhood.
Col. Bruce recently came to Pasaquan on an invited visit. His music defies most categories. You might call him a musical Eddie Martin. Charlie Fowler and his mountain man beard met him at the gate. Fowler is a musician himself and a former CSU student who lives on the grounds and has become a valuable conservationist.
The two of them walked and talked and looked. It was an unexpected and unforgettable experience for Fowler. "At several spots, Col. Bruce got real emotional. Being here was important," he says.
Work is done. Papers are signed. The celebration is about to begin. For McFalls work has just begun.
He talks about the visiting artists and scholars who will be and out of Pasaquan. He praises 95 CSU students representing four different disciplines who have worked here. Students are now busy on an oral history, a mapping project, a marketing plan and a feature writing class is composing articles about a place that defies normal verbs and nouns.
A doctoral student in art history from the University of Wisconsin is writing a thesis on Pasaquan and a preservationist student from Cornell has been here to study. Already on display are works created by students from the University of Georgia and a show on Pasaquan begins at the LaGrange Museum of Art later this month.
What's ahead depends on what McFalls finds when he sets his own imagination free. As an arm of Columbus State University, Pasaquan will be a classroom, a museum and at other times a place to meet. For some people it will be a place they go for inspiration. Three days a week it will be open to the public.
And everyone will discover their own Eddie Martin.