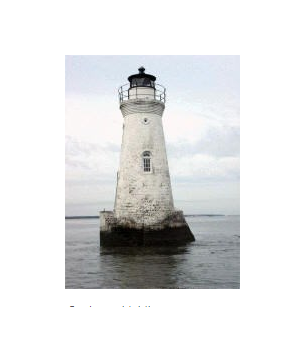 The Georgia Historical Society and the Friends of Cockspur Island Lighthouse rededicated the Cockspur Island Lighthouse historical marker Wednesday in a ceremony at the Fort Pulaski National Monument.

Speakers included The Honorable Jason Buelterman, Mayor of the City of Tybee Island; Harvey Ferrelle III, President of Friends of Cockspur Island Lighthouse; Hunter Hall, Field Representative at the Office of U.S. Congressman Earl L. "Buddy" Carter; Joe Amlung, President, Tybee Island Historical Society; and Pattye Meagher, Director of Communications at the Georgia Historical Society.
The original marker, dedicated in 2011, was destroyed by a tornado in 2017 that also damaged nearby Fort Pulaski.
The historical marker reads:
Cockspur Island Lighthouse
Designed and built in 1848 by noted New York architect, John Norris, also the architect for the U.S. Customs House, the Greene-Meldrim House, and the Mercer-Wilder House in Savannah, the Cockspur Island Lighthouse was destroyed by a hurricane in 1854, but rebuilt and enlarged the next year. At the start of the American Civil War, the light was temporarily extinguished. The lighthouse survived the 30 hour Union bombardment of Confederate held Fort Pulaski in 1862 and also two hurricanes in 1881 and 1893. When shipping lanes shifted in 1909, the light was again extinguished. In 1958, the US Coast Guard transferred control of the Cockspur Island Lighthouse to the National Park Service.