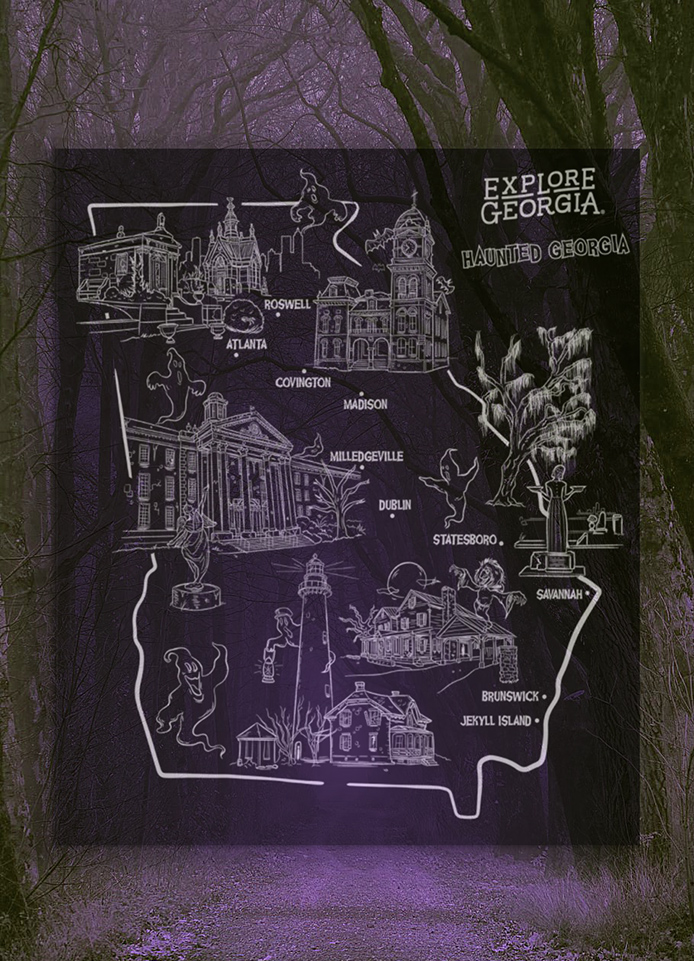 For those who are more into scary Halloween attractions than cozy and colorful fall scenes, Explore Georgia has you covered with their lists of spooky places to explore this season. They've even included stories, maps, and some printable Haunted Georgia coloring pages.

The first is "The Haunted Georgia Halloween Road Trip" where they've curated the ultimate Haunted Georgia Halloween Road Trip that takes you from the Atlanta area all the way to the coast, while hitting up small towns in between in search of ghosts, spirits, apparitions, and even a banshee! 
Next is "5 of the Best Halloween Experiences in Georgia" where you can join ghost tours in historic towns throughout Georgia. From the cobblestone streets of Savannah to a haunted hotel in Americus, here are a few of the best Halloween experiences in the state, ranging from spooky to adults-only fright level.
If you're really looking to get spooked, Explore Georgia recommends that you "Spend an Evening in one of Georgia's Haunted Hotels". Check out these hotels throughout the state for a fun, spook-filled night. The ghosts of these haunted hotels in Georgia are mostly friendly, but their presence can still keep you up at night. 
Travel around and visit some ghostly landmarks with "Where to Find Famous Georgia Ghosts". This list has hotels, cemeteries, mansions, and more. As one of the original Thirteen Colonies, Georgia's history as a state dates back more than 300 years. Over that time, there have been spooky stories about hauntings and spirit sightings from the mountains to the coast. If you dare, visit these cities and towns, and explore some of their famous landmarks to find out if seeing is believing.
If you enjoy tours of historical cities and sites with ghostly encounters, "Spooky, Eerie and Downright Scary Ghost Tours in Georgia" is the perfect guide. Georgia's historic cities are prime locations for ghost hunting year-round, and when the Halloween spirit is at its peak in October, many more ghost tours come out to play at night. Join a guided tour to hear spooky, eerie and downright scary tales of paranormal activities in Georgia's haunted towns.
Read the full lists, see the maps, get your coloring pages, and find more spooky fun ideas in Georgia by visiting Explore Georgia's 2022 Halloween Experiences in Georgia HERE.