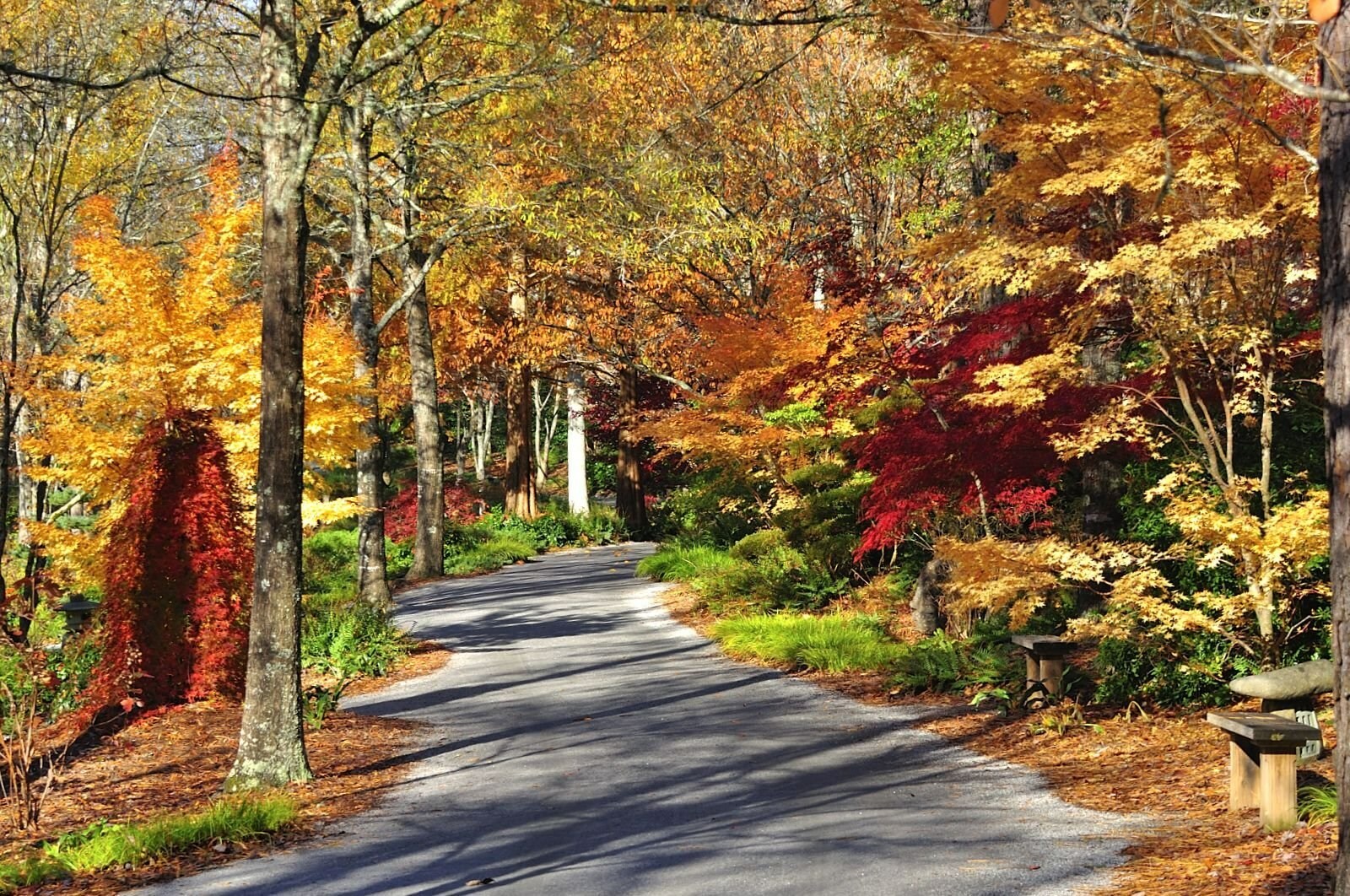 Gibbs Gardens transforms in fall. Colorful flowers fade into the background as trees of every size, shape and variety take center stage; their leaves bathed in vibrant shades of amber. Camus is right: Every leaf becomes as beautiful as a flower in autumn.

Don't waste this season's beauty by viewing fall foliage from the highway in a car traveling 40 miles an hour. To truly appreciate the 360-degree magic of the season take a leisurely stroll through Gibbs Gardens and immerse all your senses in the unforgettable experience autumn offers: Listen as gentle fall breezes brush across diverse leaf shapes to create the music of nature. View millions of vibrant bronzed leaves sparkling in the sunshine. Take a breath, smell the clean, pure fragrance of autumn-scented air.
Autumn Beauty Throughout the Gardens
Nowhere are trees more beautiful in fall than the magnificent 40-acre Japanese Gardens—where thousands of Japanese Maples in every shade, size and variety steal the show, lifting vibrant swatches of color skyward on each branch and leaf. More than 5,000 Japanese Maples, representing 300 varieties, thrive throughout the gardens. The leaves of different varieties morph into yellow, orange and red shades at different times throughout fall to offer ever-changing foliage views. From rare weeping varieties to majestic, mature "sky-scrapers," trees are everywhere in the gardens.
Gibbs Gardens offer marvelous bursts of autumn color across its vast 376 acres—from sprawling hillsides, artistically designed plant collections and exotic water features. The Manor House Gardens include 200 acres of existing natural woodlands complemented by beautifully designed plantings in bright autumn colors.
Hundreds of Eumonymus alatus (burning bush) are sprinkled throughout the gardens to provide pops of brilliant red. Maple trees, dogwoods, crape myrtles and hundreds of companion plants bring layer upon layer of autumn color. Each year Jim Gibbs, the owner/designer/developer of Gibbs Gardens, continues his tradition of adding Japanese Maples in a wide range of varieties for color and variety, to enhance the gardens' beauty.
All of Gibbs Gardens walkways and paths are designed to guide visitors across the slopes for a spectacular viewing perspective—to appear as one enormous garden drenched in fall color.
"One of the best hidden gems for fall leaves in Georgia is Gibbs Gardens, located in Ball Ground. Gibbs Gardens ranks as one of the most extensive residential estate gardens in the United States," writes Leah Shoup in "The 15 Most Beautiful Places to See Fall Foliage in Georgia." (Gringa Journeys, August 2022.)
A World-Class Garden Experience
Honored with the National Garden Clubs' Award of Excellence, Gibbs Gardens has been named one of the "Thirteen Best Botanical Gardens in America," "2020 Best American Botanical Gardens," one of the "World's 10 Best Places to See Daffodils," and "a top garden in Georgia" by the Atlanta Journal Constitution and Explore Georgia. To learn more about Gibbs Gardens go to gibbsgardens.com. and other wildflowers
---
SOURCE Gibbs Gardens