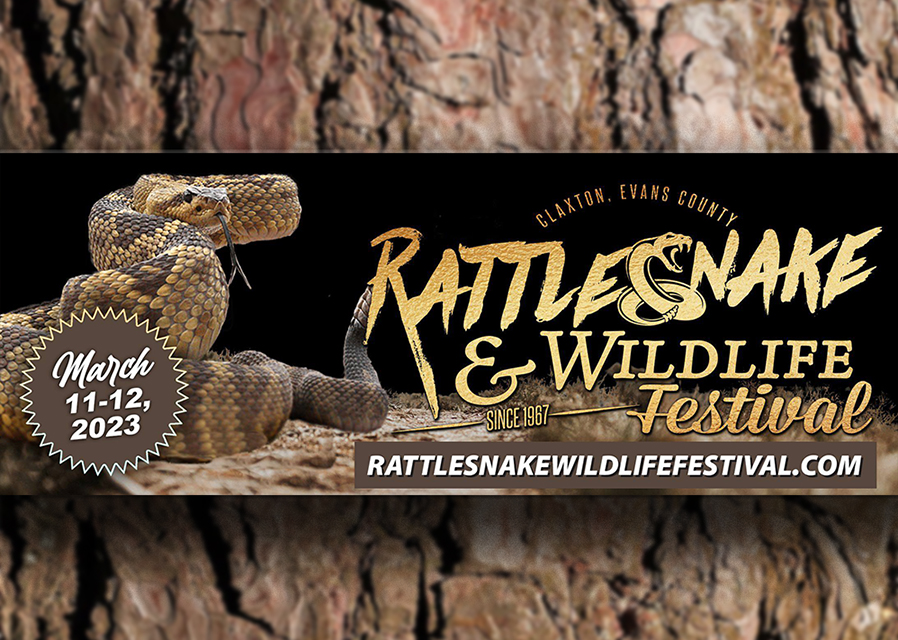 The 55th annual Rattlesnake and Wildlife Festival in Evans County is March 11, 8:00 am – 6:00 pm, and March 12, 10:00 am – 5:00 pm.

The festivities will begin with the Miss Rattlesnake and Wildlife Pageant on Friday, March 10 at 7:00 pm. The crowning of the queen will be on Saturday at 2:30 pm.
The parade will begin at 10:00 am on Saturday. The parade route will begin at the intersection of Clark Street and Hwy 280 West, then travel Highway 280 /Main Street where it will turn left onto Hwy 301 and end at the Claxton Square/Food Fresh Shopping Center.
Many booths of homemade goods, crafts, and area businesses, as well as several food vendors and rides, will be at the festival throughout the weekend. On the entertainment stage local individuals and groups will be singing, dancing, and clogging. There will also be a car and motorcycle show.
The lineup of wildlife programs varying from Southeastern Reptile Rescue to Chehaw Education Program, Georgia Southern University, and more are scheduled for both festival days.
Admission is $8 for anyone over 5, free for kids 5 and under, and admission for military is 1 free entrance with ID.
Along with Georgia DNR, conservation partners have been helping engage festival visitors since 2012, when the Evans County Wildlife Club banned the buying or selling of wild-caught rattlesnakes at the event and oriented it toward wildlife education. Georgia's last rattlesnake roundup, in Whigham, did the same in 2022.
Visit the Evans County Rattlesnake & Wildlife Festival on Facebook and on their website.