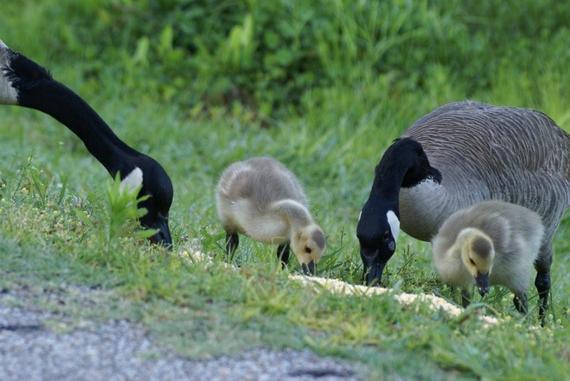 Early teal season and early Canada goose hunting seasons are the first opportunity of the year for waterfowl hunters to get out in the field, according to the Georgia Department of Natural Resources' Wildlife Resources Division.
This year, early Canada goose season is Sept. 7-29, with a daily limit of 5 geese, and early teal season is Sept. 14-29, 2019, with a daily limit of 6 teal.
Where do you go to hunt teal or geese? People can hunt at any of the Georgia Wildlife Management Areas (WMA) that are open for small game hunting during the statewide teal and goose seasons, or even at beaver ponds and other natural wetlands (ensure you have permission to hunt any private property). Lakes and reservoirs such as Juliette, Clarks Hill, West Point, and Seminole offer great hunting opportunities for both teal and geese.
"Look for teal in shallow water areas with submerged or emergent vegetation for teal to feed on," said State Waterfowl Biologist Greg Balkcom.  "Look for geese in open water areas near pastures or other grassy openings along the bank. Geese are grazers, and they prefer to fly into an area, land on the water then walk up the bank to feed on nearby grasses."
Waterfowl hunters need a hunting license, the Georgia migratory bird stamp and the federal duck stamp. Licenses may be purchased at www.GoOutdoorsGeorgia.com. The price of this license is included in some license types, and it is $5 on its own. You must complete a migratory bird hunter questionnaire when you get the stamp.
More information about waterfowl hunting at https://georgiawildlife.com/migratory-bird-info.
As a reminder, the following federal regulations apply:
No person shall take migratory game birds:
With a trap, snare, net, crossbow, rifle, pistol, swivel gun, shotgun larger than 10-gauge, punt gun, battery gun, machine gun, fishhook, poison, drug, explosive or stupefying substance.
With a shotgun capable of holding more than three shells, unless it is plugged with a one-piece filler which is incapable of removal without disassembling the gun.
From a sink box (a low floating device, having a depression affording the hunter a means of concealment beneath the surface of the water).
From or with the aid or use of a car or other motor driven land conveyance, or any aircraft except that paraplegics and single or double amputees of the legs may take from any stationary motor vehicle or stationary motor drive land conveyance.
From or by means of any motor boat or sail boat unless the motor has been completely shut off and/or the sail furled, and its progress therefrom has ceased.
By the use or aid of live decoys or by using records or tapes of migratory bird calls or sounds, or electrically amplified imitations of bird calls.
By driving, rallying, or chasing with any motorized conveyance or any sail boat to put them in the range of the hunters.
By the aid of baiting (placing feed such as corn, wheat, salt or other feed to constitute a lure or enticement), or on or over any baited area.