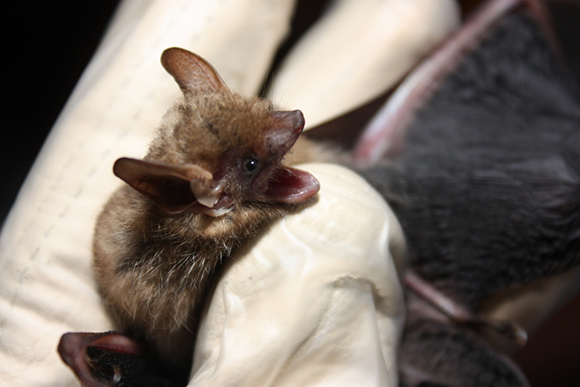 In a discovery that didn't shock scientists, the fungus behind the bat-killing disease called white-nose syndrome has been found in culverts in Georgia's Piedmont region.
Both the spread of Pseudogymnoascus destructans, or Pd, from the north Georgia mountains and the fungus' appearance in road and drainage culverts are firsts for the state. Carroll, Clarke and Monroe also are the first additional Georgia counties to test positive for Pd since 2015, according to a just-released state Department of Natural Resources report on white-nose syndrome surveys this winter.
Researcher Katrina Morris stressed that Pd in the Piedmont does not mean the disease named for the white fungus on the muzzles and skin of some affected bats will soon follow. "We don't know how that's going to play out," said Morris, a senior wildlife biologist with DNR's Wildlife Conservation Section.
But documenting the fungus in the region's culverts, two in Carroll and one each in Clarke and Monroe, is concerning. It shows how white-nose could be transmitted from north Georgia caves and mines through the state's midsection—where caves are scarce and some bats use transportation structures as roosts—to south Georgia, which is more pocked with caves than the Piedmont.
The good news: Although bat totals at north Georgia caves checked this winter remain down 93 percent from peak counts, the regionwide decline appears to have stabilized the last two years, Morris said.
The winter survey results are featured in a report and interactive web map at georgiawildlife.com/wns.
First reported in the U.S. in New York in winter 2006–2007, white-nose syndrome has spread across North America. Millions of bats have died. The disease irritates them awake from hibernation or less intense periods of torpor in winter, causing these small mammals to burn fat reserves needed for survival. Death comes by starvation, cold or stressed immune systems.
While white-nose has no documented effect on humans, the impact on bats does. Bats fill vital natural roles, from eating insects to adding nutrients to cave habitats. Losing the natural pest-control service they provide could cost the agriculture industry in North America $3.7 billion-$53 billion a year.
White-nose syndrome reached Georgia in 2013. Fourteen counties are now confirmed with the disease or the underlying fungus. Paulding County in metro Atlanta is the farthest south white-nose has been found in the state. Monroe, just north of Macon, is Georgia's most southern county for Pd.
DNR and partners such as the U.S. Fish and Wildlife Service and U.S. Geological Survey sample caves, mines and a growing network of culverts each winter to monitor white-nose and combat its spread. Transportation structures are key because they serve as winter roost sites in areas where caves are few.
But it's not clear how regularly bats use culverts for hibernation, how much that use exposes them to Pd and white-nose, or even what features make a culvert or bridge a preferred roost site, Morris said.
New research aimed at providing answers includes the University of Georgia and others. "We're trying to figure out what conditions make some sites more suitable and what the bats' activity levels are."
For example, the frequency bats move in and out of culverts in winter could factor into how vulnerable they are. White-nose apparently can take hold when a bat's body temperature drops to match temperatures cool enough for the fungus to grow.
But researchers won't be surprised if Pd and white-nose continue to creep south. "We expect it to move into (cave) areas in south Georgia, likely through culverts and mingling of bats at sites," Morris said.
In almost all cases, to protect the bats and habitats DNR does not release where monitoring sites are.