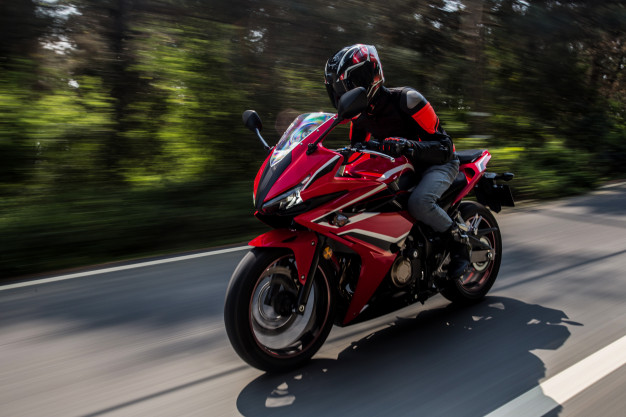 As May welcomes in warmer weather and the motorcycle riding season begins to peak, the Georgia Department of Driver Services (DDS) Motorcycle Safety Program (GMSP) wants to remind all motorists that May is Motorcycle Safety Awareness Month and the message is to "Share The Road."
DDS Commissioner Spencer R. Moore encourages motorcyclists to be aware of their surroundings and use caution at all times. "The best way to celebrate Motorcycle Safety Awareness Month is to always wear a helmet and to support all-rider laws to ensure fellow riders do the same," said Commissioner Moore. He also reminds all motorists to be on the lookout for motorcyclists who may be difficult to see.  "Safety on our roadways is a shared responsibility," he added.
Georgia is one of 19 states and the District of Columbia that has a universal helmet law requiring all motorcyclists to wear helmets. Data released by the National Highway Traffic Safety Administration estimated helmets to be 37% more effective in preventing fatal injuries to motorcyclists.
GMSP promotes motorcycle safety awareness as a year-round effort. May brings special attention to the "Share The Road" campaign as a call-to-action to motorcyclists and drivers of safety issues that directly impact the motorcycle community.
In addition to promoting motorcycle safety awareness, GMSP encourages motorcyclists to take rider education courses, whether you are a first-time rider or an experienced rider. "The DDS GMSP rider education courses are a good way to hone your skills whether you are a beginner or have many miles experience," said Commissioner Moore.
Safety Tips for Motorcyclists
Wear a DOT-compliant helmet and other protective gear.
Avoid riding in poor weather conditions.
Obey all traffic laws, be properly licensed, and always use hand and turn signals.
Position yourself in the lane where you are most visible to other drivers.
Never ride distracted or impaired.
Please visit these resources to learn more about motorcycle safety: www.dds.georgia.gov/gmsp-riders;  www.nhtsa.gov/road-safety/motorcycles;  and www.iihs.org/topics/motorcycles#helmet-laws.
Georgia Motorcycle Safety Program
The Georgia Motorcycle Safety Program (GMSP) is a part of the Georgia Department of Driver Services. In addition to regulating rider education programs, the GMSP also promotes motorist awareness programs, share the road campaigns, and is focused on highway safety issues affecting Georgia motorcyclists.