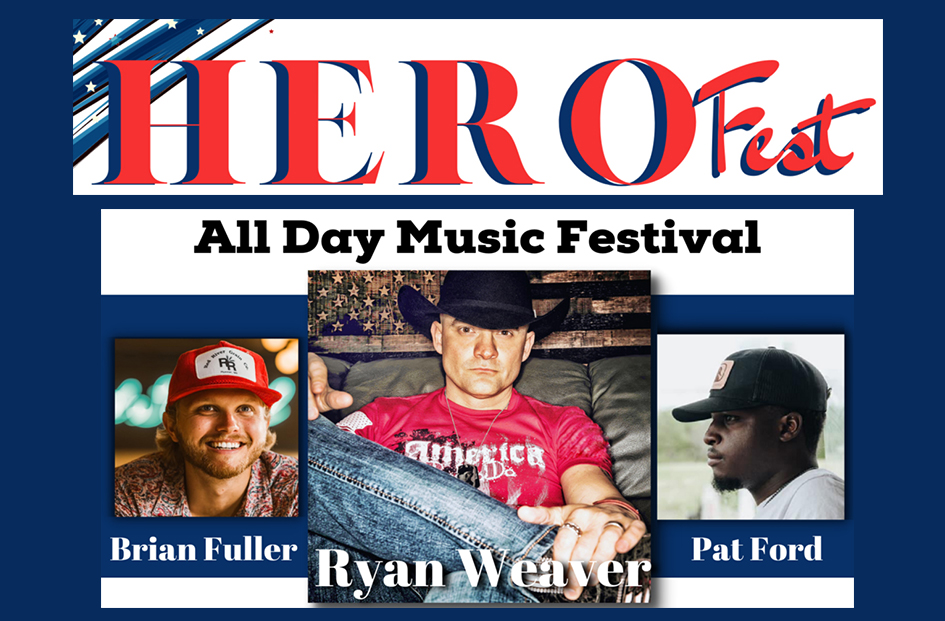 2021 Hero Fest Press Release:
Country Artist and Combat Veteran Ryan Weaver to headline the 2021 Hero Fest Weekend in Claxton, GA on November 4th – 5th and Reidsville, GA on November 6th benefiting The Warrior Shield Foundation, a 501c3 non-profit organization. 
Ryan Weaver's new single "Let's Talk About Heroes" will release at 11:00pm CST on Veterans Day – November 11th and the entire music video was entirely filmed in Tattnall and Evans County, GA.  The Hero Fest weekend will be featuring Weaver's single and various performances by the artist and his band.   Fans can pre-save the "Let's Talk About Heroes" single HERE. 
"I'm excited to be celebrating the release of my new single "Let's Talk About Heroes" in Claxton and Reidsville, GA as we approach Veterans Day," said Ryan Weaver.  "We wanted to write a song that recognized and honors our everyday heroes, military, first responders and all those working on the frontline who put their lives in harm's way every day to protect us.  The song honors those everyday heroes living among us, day in and day out, and the families of the fallen that we've lost in the line of duty.  They deserve our recognition and respect. I hope the Claxton and surrounding communities will join us for Hero Fest this year to celebrate America."
Hero Fest 2021 event includes:
●  
Thursday, November 4th at 6:00
pm – Sponsor Event at Canoochee Plantation:
   This is an exclusive VIP event for top sponsors that includes cocktails, dinner, meet & greet 
and All-American Campfire with Ryan Weaver and band.  (Canoochee Plantation is located at 4801 LJ County Road 111, Claxton, GA 30417)
●  
Friday, November 5th at 6:00pm – VIP Night at Iron Eagle in Claxton, GA:
   The VIP Night will consist of an early screening of Ryan's new music video, "Let's Talk About Heroes," a mini-concert, live and silent auctions and a meet and greet with Ryan and his band.  Also in attendance will be all of the main characters in his video, including Medal of Honor Recipient Don Jenkins, Professional shooter, 2A Advocate Dianna Muller, and Vietnam tunnel rat Rudy Pearson.  (Iron Eagle Sports Cafe is located at 6986 U.S. 280, Claxton, Georgia 30417)  
To purchase tickets for the VIP Night (11/5) please visit 
https://ticketstripe.com/herofestvip
.
● 
Saturday, November 6th – 11:00am – 8:00pm:  Hero Fest Concert and Festival at the Reidsville Municipal Airport.
  Ryan Weaver and band will headline the concert event.  Other artists include Pat Ford and Brian Fuller.  The festival will include food booths, craft vendors, kids zone, mechanical bull rides, military, law enforcement, first responder vehicles and personnel on display, an aerobatic air show by Tony Zorn.  Event organizers ask that you bring your own lawn chairs. 
(Reidsville Municipal Airport is located at 1430 Airport Rd, Reidsville, GA 30453)
Hero Fest Concert & Festival (11/6) tickets are $5 per person at the entrance gate day of the event and children 12 years old and under are free.
Sponsorships for Hero Fest range from $500 to $5,000 are still available by contacting Kelli Smith at 
WSFherofest@gmail.com
. 
A portion of the proceeds from the Hero Fest weekend will benefit The Warrior Shield Foundation to ensure our American Heroes get the support they have earned. WSF is here to Unite, Honor, and Provide Support for veterans, first responders, and gold star family members.  The foundation will enable them to find the help they need, either through direct assistance or connecting them within our Shared Vision Network. 
Using data driven models, WSF provides solutions that make a long-lasting difference.