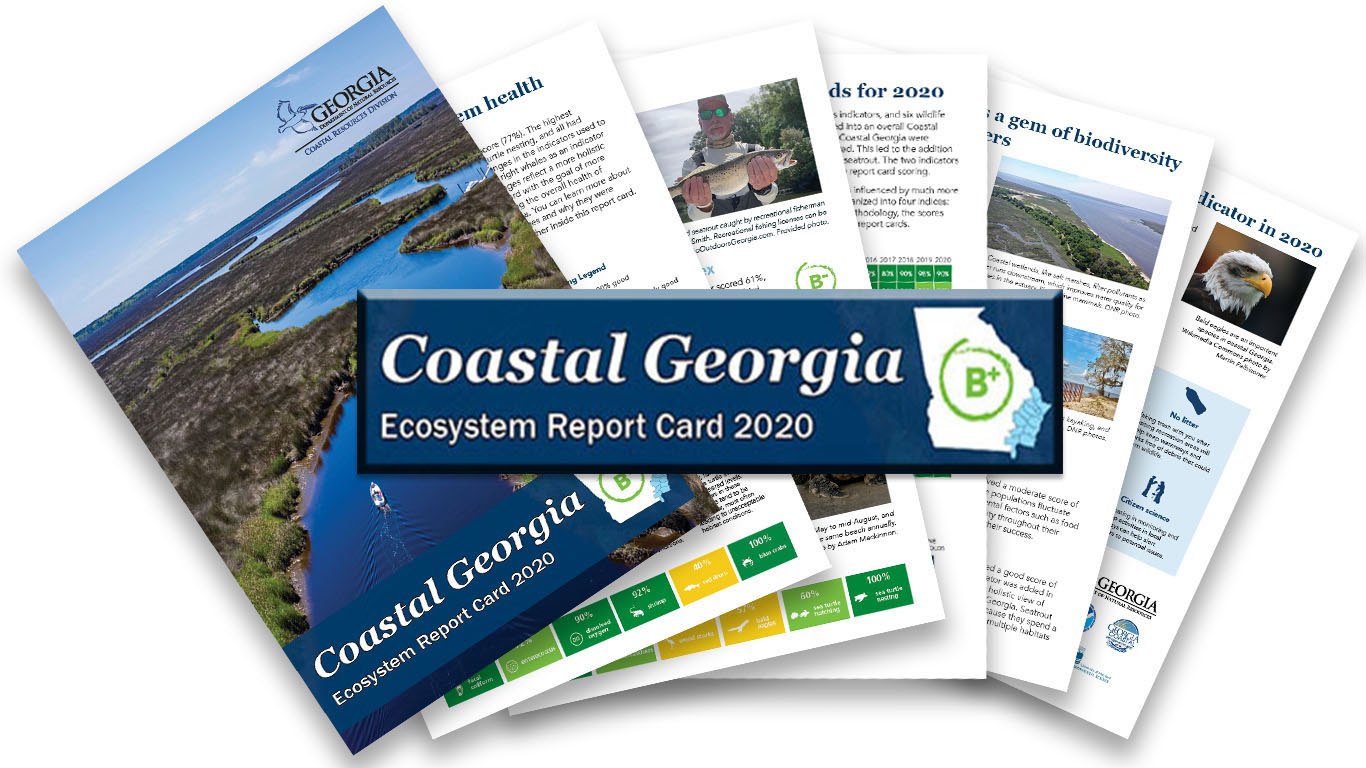 An annual report measuring the health of coastal Georgia's ecosystem released today shows a slight decline from last year in overall scores, but most indicator trends remain positive.
The Coastal Georgia Ecosystem Report Card scored the state's coastal environment at a "B+", or 77 percent, a three-point decrease from last year, according to the Coastal Resources Division (CRD) of the Georgia Department of Natural Resources (DNR), which commissions the report.
"While we're always striving to improve our scores, this slight decrease does not represent a concern at this point in time," said Jan Mackinnon, a CRD biologist who oversaw the report. "Slight changes in environmental factors, including weather patterns, wildlife migration, and data collection can lead to different scores each year. The report still ranks Georgia's coast in moderately good health, and we're confident in the long-term trends."
The score was also impacted by changes this year in the indexes used calculate the health. This year's report card added spotted seatrout and bald eagles as indicator species and incorporated dissolved oxygen levels to the overall score.
"Spotted seatrout was added because the species spends most of its lifecycle within estuaries, rarely traveling into open waters off the coast," said Jared Flowers, a CRD marine biologist. "This makes spotted seatrout a uniquely relevant indicator due to its dependence on healthy estuaries and importance to anglers."
Similarly, bald eagles were added as an indicator because they are a top predator and depend on a healthy ecosystem to hunt for fish and other prey.
"When pollutants enter the marine environment it can contaminate fish, which in turn are eaten by predators such as bald eagles, potentially harming them as well." said Jason Lee, a biologist with the Conservation Section of DNR's Wildlife Resources Division. "The Georgia coast is actually home to more bald eagles than any other place in the state, and so to see the populations flourishing like they are tells us a positive story about the overall health of Georgia's coast."
Removed from the report card this year is the North Atlantic right whale. The species is critically endangered and has been on the report card since its inception in 2014.
"North Atlantic right whales are declining rapidly because of high mortality rates and low calving rates," said Clay George, DNR's marine mammal biologist. "But most of those issues are happening far away from coastal Georgia."
The majority of recent whale deaths have been caused by vessel strikes and commercial fishing rope entanglement in Canada and the Northeast U.S. Scientists believe poor calving is being driven by climate change and its effect on plankton that the whales eat, also in northern waters.
"For that reason, we decided to remove right whales as an indicator species," George said.
The report card scores 12 different indicators on a zero to 100 percent scale, with an "A" being between 80 and 100 percent, a "B" being 60 to 80 percent, and so on.  This scale is accepted for ecosystem health report cards worldwide and provides a clearer picture of overall health. The scoring criteria were developed in 2014 by the Integration & Application Network, the University of Maryland Center for Environmental Science, which also compiled the report card for CRD.
The report card project is funded by the Office for Coastal Management of the National Oceanic and Atmospheric Administration (NOAA). Data for the report card is provided by DNR's Wildlife Resources, Coastal Resources, and the Environmental Protection divisions. The statements, conclusions and findings do not necessarily represent the views of NOAA.
The 2020 and previous report cards are available at www.CoastalGaDNR.org/ReportCard.