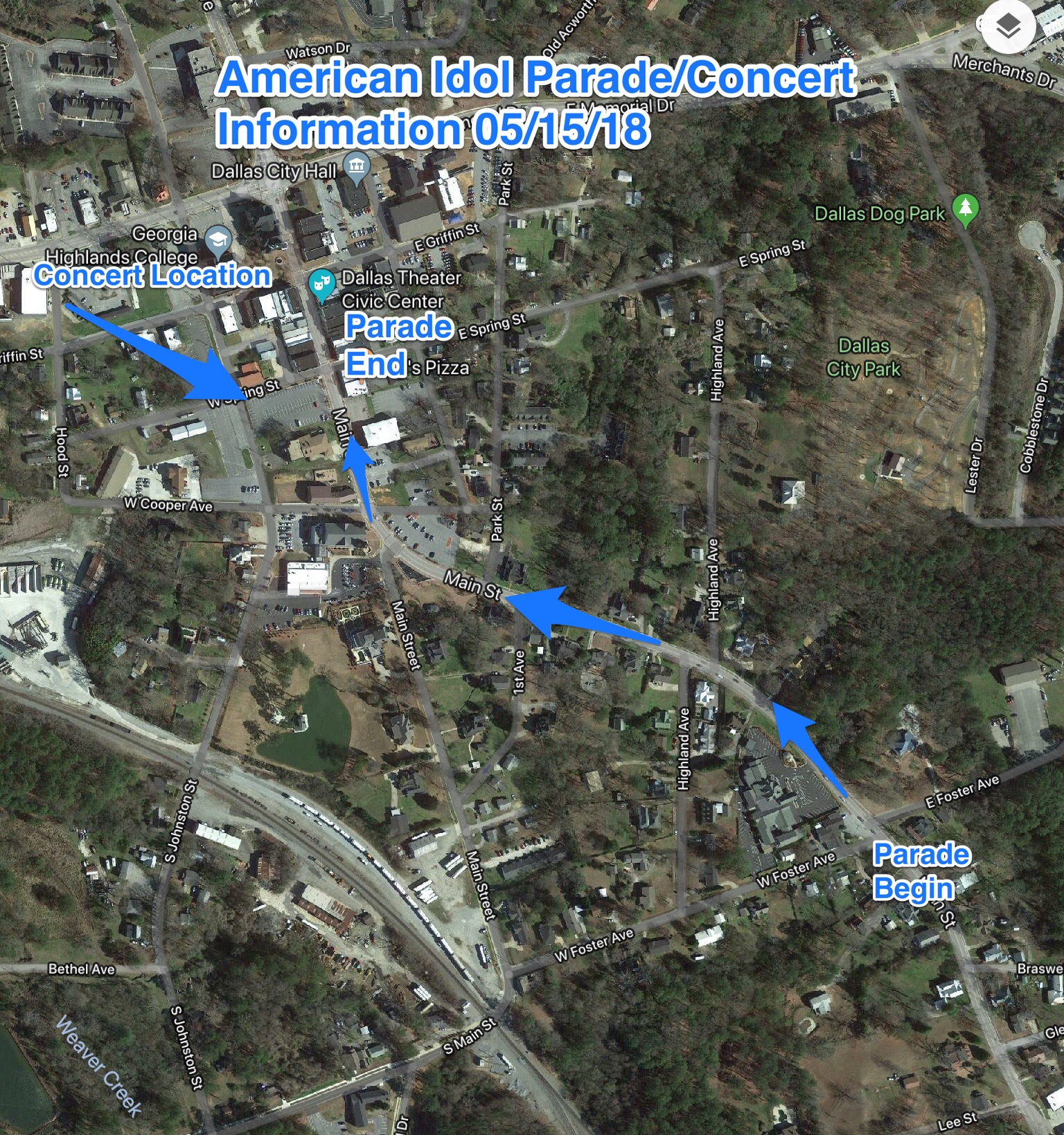 Today is Caleb Lee Hutchinson's homecoming day in Dallas. The event will be filmed by ABC/American Idol® staff and will air at a later time. Be prepared for lots of fanfare.

Below are some of the events that will be taking place in and around Paulding County today and the rules/regulations that will apply to the events.
-1:00 PM -Pep-Rally/Small Concert at South Paulding High School
(Only SPHS students are allowed)
-6:00 PM -Parade Begins (Starts at East Foster Avenue and Hardee Street)
-6:30 PM -Parade Ends (Historic Paulding County Courthouse)
-6:30 PM -Concert Begins (City Parking Lot: 121 West Spring Street Dallas,
GA 30132)
-7:00 PM -Concert Ends
Regulations/Information for the Concert/Parade
-No Alcohol
-No Coolers
-Please Bring Chairs and Blankets
-Bring Posters Supporting Caleb
-Bring a Poncho in Case of Rain
This is going to be a large event with a family atmosphere. Please come early and
bring your patience along with your Team Caleb spirit!
Here are some from frequently asked questions regarding the event.
What street will be closed and what time?
Hardee St/Main St at E. Foster Ave to the downtown red light and S. Johnson St from Griffin St to Cooper Ave will be closed from 9:30am-approx 8 pm.
What time and where are the events located?
The parade will start at 6 pm and will begin at E. Foster Ave and end at the downtown red light. His performance will begin shortly after the parade between 6:30-7pm in the city parking lot across from Sal's Pizza. The Concert will last approx. 30-40min, located at 305 Main St., Dallas, Ga 30132.
What can I bring or not bring?
You can bring a chair, poncho or umbrella and clear beverage containers. You may not bring coolers, alcohol, backpacks or drones.
What if it rains?
The event will be rain or shine.
How early can I get in the downtown lot for the concert?
The downtown lot will not open until 4 pm, the production and camera crew may need to use this space. Please don't plan on sitting your chairs in the lot early and leaving them.
Can my teenage children be dropped off at the event?
Yes, First Baptist Church Fellowship Building, located at 401 Main St., Dallas, Ga 30132.
Will there be a meet & greet or autograph signing?
No
Will there be concessions or food vendors?
No
Will there be a cool down area or water for someone that has overheated?
Yes, First Baptist Church Fellowship Building, located at 401 Main St., Dallas, Ga 30132.
Where can I park?
Dallas Elementary, PCSD Transportation Building, Hershel Jones Middle School (please do not park here until after school is over), Regions Bank, Oasis Church, Old Mill Antiques, Chattahoochee Tech, Paulding County Government Complex, Coleman Camp Park, The Village of Dallas Shopping Center, City lot behind the Civic Center and behind Curl's Pharmacy. Please do not park in business parking areas that are open or have posted no parking signs.
Will there be handicap parking?
Yes, there will be limited parking at Dallas First Baptist Parking Lot across from the church.
Will there be restrooms?
Yes, portable potties will be located throughout the downtown area.
Below is a map of the event area.