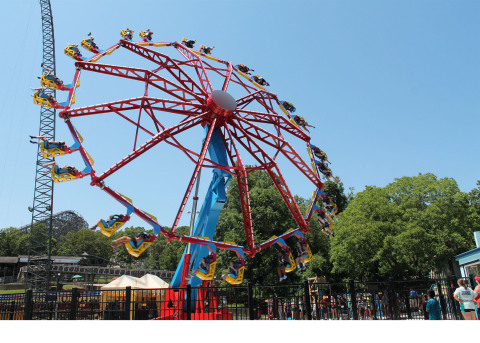 The Thrill Capital of the South— introduces two new villainous thrill rides are spinning into Six Flags Over Georgia in 2020. Catwoman Whip and Poison Ivy Toxic Twister will both offer topsy-turvy experiences in an all-new Gotham City section of the park.

"Every year, Six Flags creates innovative, new ride experiences for thrill-seekers of all ages," said Park President Dale Kaetzel. "Catwoman Whip and Poison Ivy Toxic Twister will be sensational new additions to our ride arsenal that features the biggest and best variety of rides in the region."
Guests will soar seven stories high as they prepare for an adrenaline-charged flight on Catwoman Whip, featuring:
A super-sized wheel spinning horizontally, as a giant arm lifts and tilts the wheel to a vertical position;
High-speed rotations spin round and round, reaching heights of 67 feet in the air; and
An exhilarating flight in 24 open-air seats with feet dangling below.
Poison Ivy Toxic Twister sends 36 riders swirling on a dizzying journey, featuring:
A giant center rotating arm rotates riders in pods as they experience centrifugal force;
Pods spin counter clockwise, while the ride turns in the opposite direction; and
Riders in groups of three, all connected in 12 clusters, twist and churn at high speeds.
The all-new Gotham City featuring Catwoman Whip and Poison Ivy Toxic Twister will open in late spring 2020. Additional exciting announcements regarding 2020 will be announced soon. For more information about these attractions and the 2020 season, visit Six Flags Over Georgia.
Six Flags Over Georgia has already announced the start of 2020 Season Pass sales with its special Flash Sale through Labor Day weekend featuring the best deal of the year—savings up to 70% off of a 2020 Pass.
Gold Combo Season Passes include admission to Six Flags Over Georgia, Hurricane Harbor, Six Flags White Water and any other Six Flags theme park, as well as free parking and special admission offers for friends.