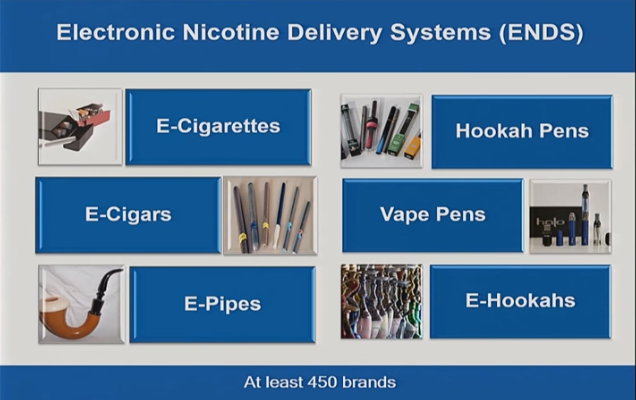 The state agency responsible for preventing disease and promoting health is joining other states in assessing vaping-related illnesses.
The Georgia Department of Public Health (DPH) says an investigation is currently underway to examine possible cases of 'severe respiratory illness' in individuals who reported vaping. It follows an announcement from the CDC on August 17, in which it was reported that 94 possible cases were documented between June 28, 2019 and August 15, 2019. By August 23, that number increased to 193.
The agency says symptoms include cough, shortness of breath, fatigue, chest pain, nausea, vomiting, and diarrhea. In the cases under investigation, the symptoms have worsened over time.
From the press release from DPH:
Many patients acknowledged a history of vaping nicotine and/or products containing THC, the component in marijuana that gives the high sensation. The Centers for Disease Control and Prevention (CDC) and state investigators have not identified any specific product or compound that is linked to all cases. Evidence does not indicate an infectious disease is the cause of the illness.
In a news release issued Friday, DPH said that multiple states have reported similar cases requiring hospitalization and patients being placed on ventilators. As of publishing, there have been no reports of death related to these cases in Georgia, however, the CDC reported one death on Friday,
From Dr. Robert R. Redfield, Director, Centers for Disease Control and Prevention in the CDC's release:
We are saddened to hear of the first death related to the outbreak of severe lung disease in those who use e-cigarette or "vaping" devices. CDC's investigation is ongoing. We are working with state and local health departments and FDA to learn the cause or causes of this ongoing outbreak.
This tragic death in Illinois reinforces the serious risks associated with e-cigarette products. Vaping exposes users to many different substances for which we have little information about related harms – including flavorings, nicotine, cannabinoids, and solvents.
DPH has requested that health care providers throughout Georgia ask patients presenting with severe respiratory illness about the use of products (devices, liquids, refill pods) used for vaping nicotine and/or THC, and report possible cases to the Georgia Poison Center. Patients with a history of vaping who are experiencing breathing problems should seek medical care.
Citing reports from the CDC, DPH maintains that E-cigarettes and other vaping devices are not safe for youth, young adults, pregnant women, or adults who do not currently use tobacco products. Both agencies say that the of these products can "increase the possibility of addiction and long-term harm to brain development and respiratory health."
In 2018, more than 3.6 million U.S. middle and high school students reported using e-cigarettes at some point in the 30 days preceding the surveys, including 4.9% of middle school students and 20.8% of high school students