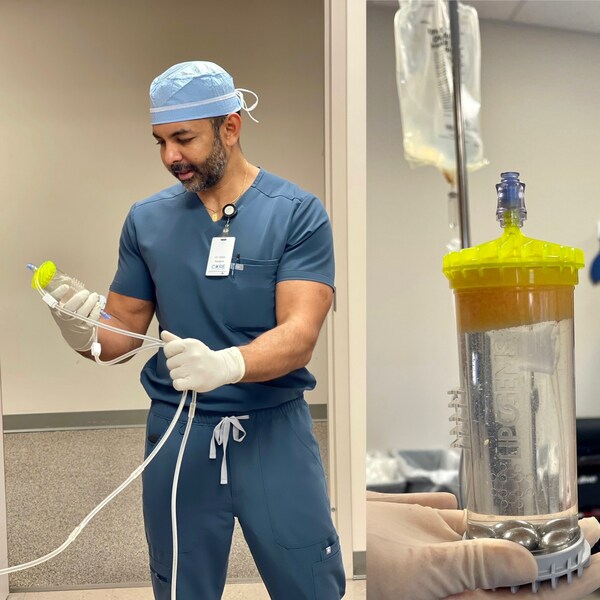 Lipogems, a clinical stage- global medical technology company, announces the first patient enrolled on January 13, 2023, in the ARISE U.S. FDA IDE study, which aims to examine MicroFat versus corticosteroid injection for the treatment of Knee Osteoarthritis (OA).

"This is an exciting moment! We screened the first patient on December 30, 2022, and I'm proud to have enrolled the first patient for this trial," said Dr. Yogesh Mittal, Board-Certified and Fellowship Trained Total Joint Surgeon at The Orthopaedic Clinic in Tulsa, Oklahoma, and a site for NextStage Clinical Research. "Many of my patients suffering from Knee OA are not ready or do not qualify for a total knee arthroplasty (TKA) and I have very limited options to offer them after they have tried conservative therapies such as corticosteroids, HA injections, physical therapy, and activity modification. Lipogems provides these patients a single injection procedure that may help treat their knee OA or delay the need for TKA."
Knee OA patients that have tried conservative options with limited relief may suffer from debilitating pain, reduced quality of life, develop other chronic diseases manifested by the lack of physical activity, and may suffer from inactivity and depression for 9-20 years.1
Lipogems' ARISE FDA IDE Study is designed to test the safety and efficacy of the Lipogems system to obtain a specific indication in Knee OA. Up to 20 sites in the U.S. will participate in the study, which will examine the effect of a single autologous, intra-articular injection of Lipogems' proprietary MicroFat versus corticosteroid injection for the treatment of pain and function for patients with moderate Knee OA.
"The ARISE study should prove we can effectively help patients with Knee OA, which is especially significant as these patients live longer, busier, and more highly active lives.", said Carl Llewellyn, CEO and President of Lipogems USA, "Backed by a growing body of clinical evidence, Lipogems has established itself as the leader in autologous adipose tissue transfer in orthopaedics. We are currently commercially available for broad use in orthopedics, but a specific Knee OA indication will permit us to better focus on this underserved patient base and help them manage this debilitating disease."
---
Reference:
1. London NJ et al. Clinical and economic consequences of the treatment gap in knee osteoarthritis management. Medical Hypotheses. 2011; 76:887-892.
---
About Lipogems
Lipogems is a privately held medical device company that uses adipose tissue solutions to help maintain or restore patient lifestyles and to improve quality of life and recovery times. Lipogems' products are used in a diverse range of areas, including orthopaedics, general surgery, plastic and reconstructive surgery, exploring products for wound care and more. Lipogems is available in 29 countries and the aim is getting patients back to their lives through our global reach and scientific excellence.
---
SOURCE Lipogems